Weber® Genesis® II LX S-340 GBS® BBQ – Stainless Steel




*** FREE

Weber® iGrill™ 3 Bluetooth Thermometer

(worth £89.99) with all Weber Genesis II LX bbqs for a limited time. ***
To receive the free gift you must enter the following code during checkout:- iGrillGenesis17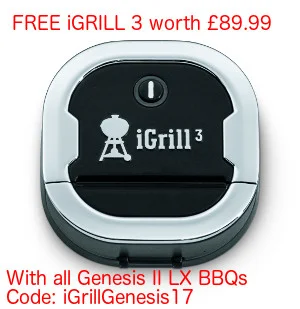 Imagine a fully
featured kitchen
with
stainless steel
accents in the comfort of your garden. While the GS4 grilling system works
magic on the grates
, focus on your special bbq sauce simmering on the side burner, as
family
anticipates the first bite.

The best selling Weber gas barbecues - Weber Genesis BBQ range has just got better with their new features.

When you experience the new Weber Genesis II LX S-340 BBQ in Stainless Steel for the first time, with its Stainless Steel lid, doors and side tables you will be thrilled to realise that once again, Weber has developed the perfect tool for sophisticated barbecue fans. Its high performance, the excellent Weber quality, and especially the numerous innovations turn the Genesis II LX into the epitome of top-class gas barbecuing.

As if the Genesis II series was not already enough -the Genesis II LX models have even more to offer. This luxury series boasts additional features and possibilities that satisfy even the most demanding barbecue requirements. It's all about raising the bar in the world of backyard cuisine.

The Genesis II LX series has been developed and engineered on the basis of the results of Weber's research - listening to the needs of consumers. And then taking it all a step further. Therefore each model is of course also equipped with a side burner, an upgraded tuck-away warming rack and a whole new powerful burner system.

Additional Side Burner
While you make a salad on the side table and the chops sear under the lid, you can make perfect use of the additional side burner. heat the your specially crafted BBQ sauce, boil the pasta or do an extra side dish on it. Help free up the kitchen hob!

Integrated Ignition
All the Genesis LX models have been equipped with a special version of the electronic ignition system. Here a switch is built into each burner ensuring smooth ignition every time just by the turn of a knob.

Illumination
The handle has a handle light, so you can see the entire cooking area even when cooking at night and with the push of a button the control knobs light up to offer optimal control in the dark. So you never have to sacrifice convenience or usability due to the time of day. The control knob lights can even be switch on via your smart phone when using iGrill 3 with your Weber Genesis II LX bbq. (iGrill sold separately)

High+ - The ultimate control over the grate
With this setting you can sear meat where you want, when you want. All burners can be turned up to the highest setting for an added boost of heat anywhere on the cooking grate. Making it perfect for searing food. Creating the delicious sear marks we all love - or for decreasing the preheat time of your cooking grates. Extra power and control over the entire cooking grate!

Grill Cabinet
The grill cabinet provides extra storage space for all of your essential grilling tools, with Stainless Steel doors. Everything you need at your fingertips, when you need it.

Warming rack - and more
The warming rack is specially designed to accommodate the Weber Elevations line of accessories. When folded down, the rack acts as a tiered base for each of the Elevations accessories to be placed in. This increases the cooking capacity and efficiency by elevating everything above the cooking grate.


Beyond the additional Weber Genesis LX BBQ features and strong GS4 grilling system, both Genesis series are characterised by new and improved features. these include being iGrill 3 compatible, an innovative tuck-away warming rack and the gourmet bbq system cooking grates.

Built to last - Comes with a 10 year limited warranty
All Weber Genesis BBQs come with a limited warranty of up to 10 years. To ensure your Weber is covered, remember to register it.
When you register, Weber will send you a welcome pack with recipe cards, cooking tips and info on our range of accessories. So register as soon as its delivered to you and sit back, relax and start your new life with a Weber – the UK's number one barbecue brand.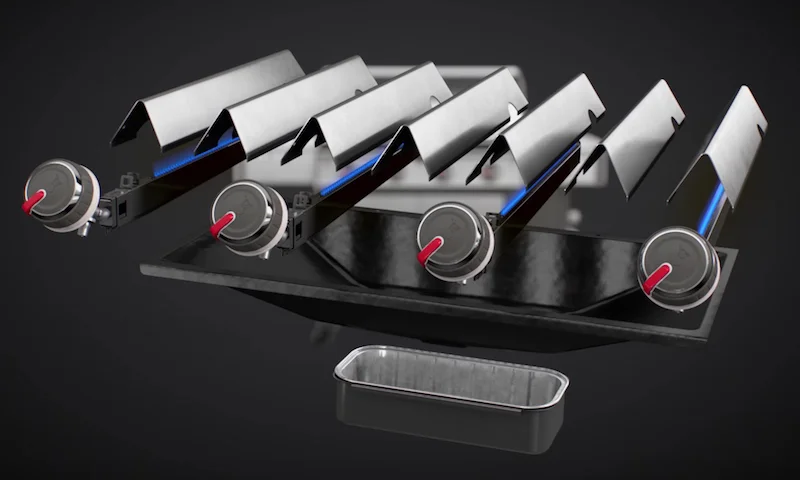 Infinity Ignition - Fires Up The First Time, Every Time
Weber's® innovative Infinity™ Ignition starts each burner quickly and reliably. You'll be up-and-grilling on the first try, guaranteed.

High Performance Burners - Innovative Burners Heat Evenly
Your food will grill evenly and consistently on the entire cooking surface. The unique, tapered design delivers a steady gas flow from front to back.

Grease Management System - Controls Grease & Adds Flavour
Less cleaning, more relaxing. The grease management system funnels excess grease into the centered drip tray for easy cleaning, while Flavorizer® Bars evaporate drippings, adding smoky flavours to foods and help control flare-ups.

GS4 Grilling System - The centre of it all
The Genesis ll and Genesis ll LX series of gas barbecues accommodate every walk of life. Ranging in size from two to six burners, all equipped with exceptional features and the new GS4 high performance grilling system, power and convenience will never be dependent on the amount of space you have or people to feed. It's the most powerful grill engine from Weber to date! The GS4 grilling system sets a new standard in the world of backyard cuisine, and lands the two series of gas barbecues in a class of their own.

Stainless Steel Side Tables With Integrated Tool Hooks
Use the side tables to keep platters, seasonings, and tools within arm's reach. Hang your essential barbecue tools on the hooks for easy access and organisation of your workspace. The left side table folds down in models equipped with two and three burners.

More storage capacity under the barbecue
The gas bottle is now located on the side of the barbecue, which makes it easier to replace. at the same time, it leaves a generous storage space under the barbecue for all your favourite barbecue accessories.

Modern Design & Ergonomic Lid
The Genesis II LX series has an enclosed cart design providing additional room and storage of your barbecue tools.
Opening and closing the Stainless Steel lid is now even more convenient and ergonomic thanks to the new lid.

GBS Inside
The many GBS inserts fit both series and open a universe of cooking possibilities. The Genesis® bbq range comes equipped with the Weber® Gourmet BBQ System grate. The Weber® Gourmet BBQ System has a 30cm removable central section. For use with the Weber® Gourmet BBQ System accessories. Such as the Pizza stone, Poultry Roaster, Griddle, Sear Grate, Dutch, Wok and even a Waffle/Sandwich Insert!

iGrill 3 Compatible
Thanks to an integrated frame in the side table, the Genesis II comes fully prepared for the newly developed iGrill 3 thermometer available here. This is the newest barbecuing essential - the iGrill 3 digital Bluetooth thermometer monitors your food from beginning to end, displaying the real-time temperature on your mobile device. Once you've downloaded the free Weber® iGrill app, connect the iGrill to Bluetooth, and run up to four thermometer probes from your barbecue to the food. (extra iGrill probes sold separately.) Opening the door for a whole range of possibilities in combination with your smart phone. (iGrill sold separately).





A family business you can TRUST, buy from the BEST…
Concerned about buying online? Dont be... take a look at our 5 Star reviews from REAL customers. As a family business passionate about Weber barbecues you can be assured your in the best possible hands throughout your purchase and aftersales support.
Your new Weber is for life. And life with Weber doesn't stop once you've paid for it! At Weber they are always on hand to offer advice and help you become part of the exciting world of Weber.

Don't forget a Weber BBQ Cover to protect your new Genesis bbq, Weber Toolset for flipping those steaks and any Weber BBQ Accessories. Please see Accessories tab of this page for related products.


Barbecue Specifications & Features

• GS4™ High Performance Grilling System: Electronic Ignition System, High Performance Burners, Flavorizer® Bars, Grease Management System
• Stainless Steel lid and stainless steel side tables, make the barbecue weather-proof and easy to clean
• Porcelain-enamelled cast iron Gourmet BBQ System® cooking grate that fits all inserts
• Electronic Ignition System – ensured to ignite every time
• 3 x High Performance Stainless Steel Burners – unique, tapered shape that deliver a consistent gas flow from front to back, providing the ultimate heat distribution to the cooking grates
• Flavorizer® Bars – catch drippings that smoke and sizzle, adding that irresistible smoky flavour to the food
• Grease Management System – helps to prevent flare-ups and makes clean up easy
• High+ - A sear burner on top of each individual burner
• Side burner
• iGrill 3 compatible
• Enclosed cart design for extra storage
• Tuck-Away warming rack
• Handle light
• Illuminated control knobs
• Folding side table with integrated tool hooks
• Easy gas tank access
SaveSaveSaveSaveSave
Save
Save
Save
Save
Save
Save
Save
Save
Save