Weber® iGrill™ 2 Bluetooth Thermometer
Whether you're a self-proclaimed grill master or just digging in, the Weber® iGrill Bluetooth® thermometers make grilling easier, more convenient, and a whole lot smarter. Download the iGrill App, connect, and open up a new world of endless barbecue opportunities. From preset temperature guides to state-of-the-art smart features, the iGrill is sure to impress every time.

The Weber iGrill 2 is equipped with the features to support everyday grilling and smoking as well as competition level bbq.

TAKE THE GUESSWORK OUT OF BARBECUING
Master the art of a medium-rare steak and become the culinary genius you aspire to be - no training necessary.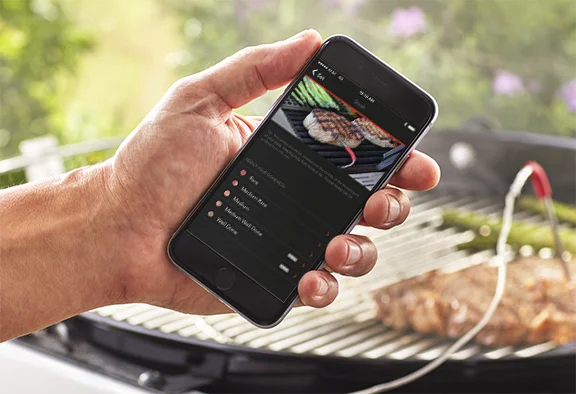 SET IT AND FORGET IT
From the moment your meat is placed on the cooking grate, to the second it reaches the perfect temperature to plate, the iGrill has your back. Insert the temperature probe(s) into your meat and track the doneness of your food from your smart phone on the Weber iGrill app, without having to lift the lid.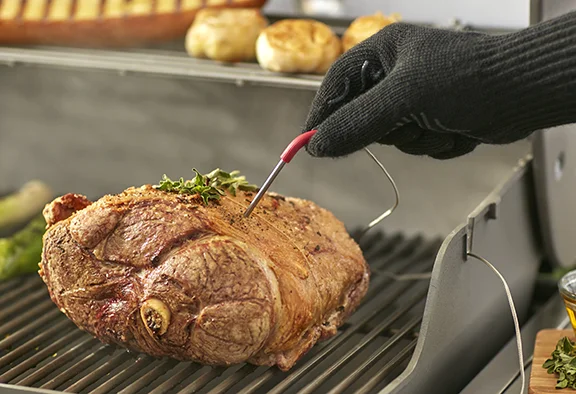 SAVOR THE MOMENT
Keeping an eye on the prize and executing a grade A meal with minimal effort has never been easier. The Weber iGrill app tracks doneness and temperature progression on your phone, so you can check on your food at any time, without missing the party.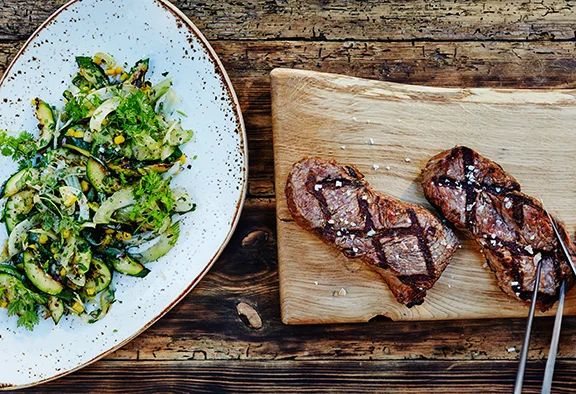 SURE TO IMPRESS
The food will speak for itself. After hours of conversation and a few glances of your smart phone, the alert has sounded and pork is ready to be pulled, slathered with barbecue sauce, and piled high on a bun. Take that first bite with confidence knowing that the iGrill Bluetooth® thermometer was watching your meal the entire time, while you were enjoying the company.

The Weber iGrill 2 digital Bluetooth thermometer monitors the internal temperature of food from beginning to end, and will notify you once it has reached the perfect degree to serve.

Download the Weber iGrill App

Simply download the Weber® free iGrill app on your mobile device and sync it to your bbq or oven.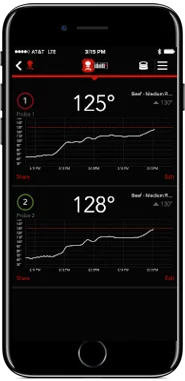 Once you're connected, the possibilities are virtually endless, and you'll find out very quickly that Weber iGrill 2 is more than a cutting-edge thermometer.

Use the pre-setting or make your own – it's all up to you.

Comes with two probes to measure both core and ambient temperature but has the capacity to hold four. Additional iGrill Probes available here

Use the pre-setting or make your own – it's all up to you.


In The Box
Weber iGrill 2 base unit
2 meat probes with colored indicators
2 AA batteries
Magnetic disc to mount unit on grill
Quick start guide

Features
Weber iGrill app available on App Store® and Google Play
Connect up to four Pro Meat Probes (two probes included with device)
LED temperature read out
200-hour battery life
150' line of sight Bluetooth® connection

Weber iGrill App
Min/max temperature alarms
Preset and custom alarms
Temperature graphing
Social sharing
Time