KamadoSpace Infinite Island - Fir Platinum
KamadoSpace Infinite Island - Fir Platinum. This is an easy assembly outdoor cooking island for your Kamado grill made of stainless or galvanised steel components and panels made of HPL – extreme weather-resistant, easy to clean high-pressure laminate made in Austria
KamadoSpace Infinite Island - Fir Platinum
KamadoSpace Infinite Island is an easy assembly outdoor cooking island for your Kamado grill made of stainless or galvanised steel components and panels made of HPL – extreme weather-resistant, easy to clean high-pressure laminate made in Austria. HPL panels are frost and heat resistant under constant temperature load -80 °C to 80 °C. HPL panels come printed on both sides. The core is flame-retardant and the surface is lightfast. Extreme weather protection consists of double-hardened acrylic polyurethane resins. Unlike solid wood, HPL is absolutely no-maintenance material. Abrasion, impacts, scratches, and extreme temperature variations – none of these will be an issue from now on. The panel surface closely resembles traditional hardwood and even feels like hardwood when you're touching it.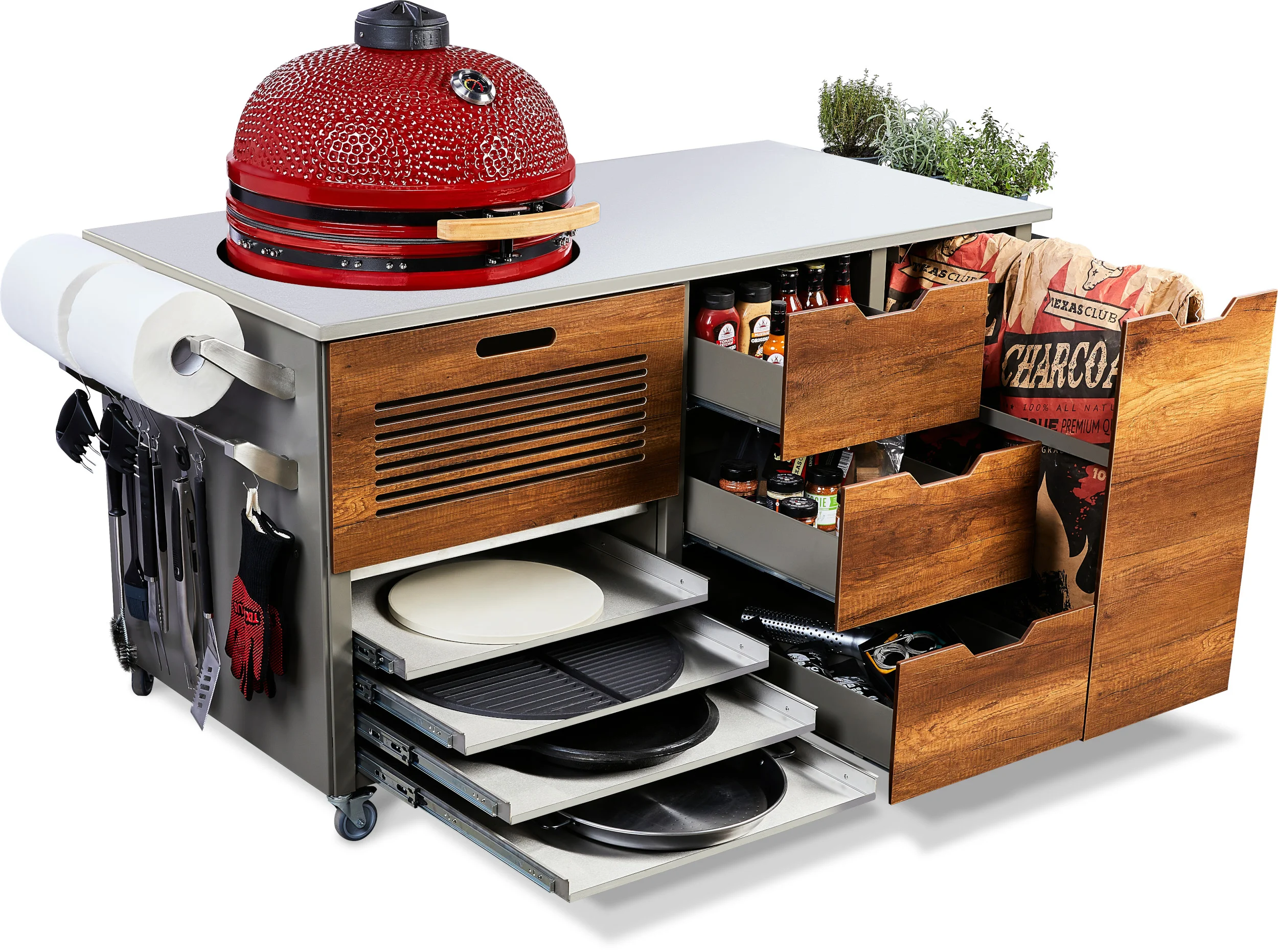 All metal components are hot-dipped galvanised and powder-coated to protect against scratches, bleaching, heat, frost, corrosion, and any other weather influence. The powder-coated components are extremely durable and resistant to impact, ultraviolet light, and frost.
Powder-coated hot-dipped galvanised metal and stainless steel components combine beautifully with solid oiled wood or HPL panels to make a robust, well-engineered construction that will last years.
A retractable ash drawer helps to ensure it is tidy all around the altar. There are four spacious accessory drawers for storing the cast iron grate, pizza stone, deflector, and baking tray. There are three drawers for cast iron pots and skillets, thermometers, and other accessories as well as the knives and spices. The charcoal drawer can hold two full bags of charcoal, so you never run out of it unexpectedly.
There is also a paper towel holder, a double accessory holder with hooks, and a shelf for your spice herbs conveniently attached to your KamadoSpace table (a wooden cutting board comes as an extra accessory). All this is designed so the family MasterChef is surrounded by blissful comfort.
The worktop is made of carefully polished, acid-proof stainless steel, that is resistant to heat and is easy to clean and maintain. The precise circular or oval opening in the worktop is laser cut to fit your specific Kamado model. The height of the metal shelf where your Kamado is placed can be adjusted in 30 mm increments (6 positions). The table has four drawers for spacious accessories like a cast iron grate, pizza stone, deflector, or baking tray.
There are three elegant 68-liter volume drawers for pots and utensils, one sturdy 179-liter volume drawer for charcoal – all with concealed full extension runner systems. Low-friction nylon rollers in the roller carriage and the synchronization of the drawer profile and roller carriage ensure synchronized, smooth running action coupled with excellent sag values. It includes integrated, switchable technology for silent and effortless closing to ensure a feather-light glide and bring enhanced user convenience to the entire cooking island.
A stainless steel ashtray with a lid is a feature that most users will much appreciate. It is engineered in a way to keep the grill surroundings as clean as possible.
The table is equipped with swivel casters with stop-fix brakes from German manufacturer Blickle. There is a kitchen towel holder, a holder with 10 hooks for hanging accessories, a herb pot shelf. A removable solid maple cutting board can be purchased as an extra accessory (it is placed over the entire depth of the table, impregnated with Swedish SKYDD oil specifically made for treating wood surfaces where food is prepared).
KamadoSpace cooking island is 100% designed and manufactured in the EU.
Top tip: Click here to watch the 3D assembly video BEFORE ASSEMBLY
Note: Does not include a Kamado bbq.
Here's a selection of the BBQ brands the KamadoSpace table works with: Kamado Joe, Monolith, Big Green Egg, Primo and many more.
When choosing your KamadoSpace Infinite Island choose one of the 5 offered high-pressure laminate (HPL) front panels – Olive, Sahara, Fir Platinum, Barrique Oak or Carbon Grey surface type. Then pick the most suitable worktop with a certain cutout for your Kamado bbq.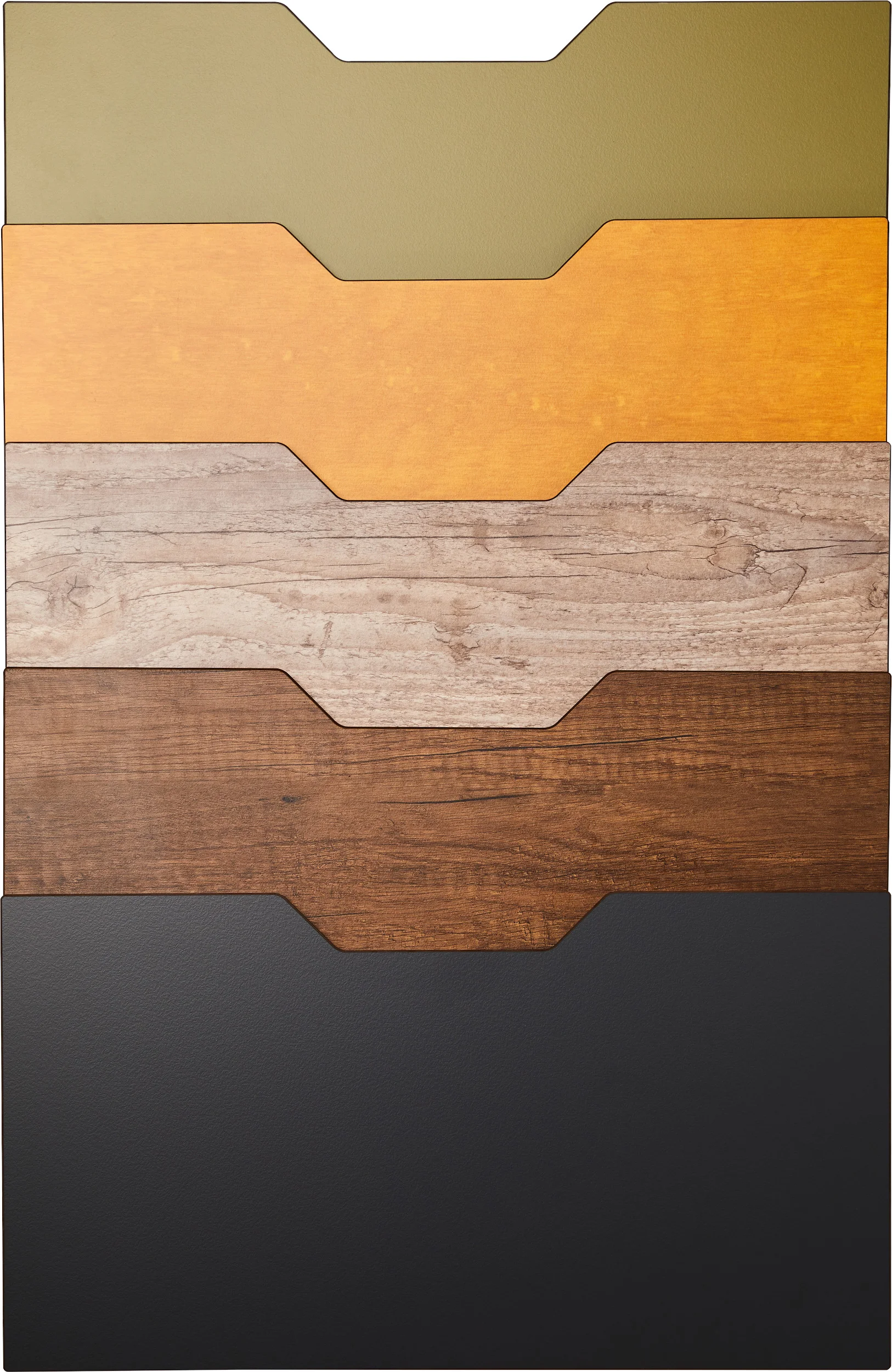 Limited Warranty
Panels: 25 years
Stainless steel parts: 5 years
Hot-dipped galvanized steel parts: 5 years
Moving parts: 2 years