The Weber Charcoal Barbecue Range
The world of the charcoal bbq is essentially back to basics – returning to the original experience of cooking over an open fire. In front of you now stands the modern fireplace. Take your time to light the barbecue, focus on the details, practice controlling the temperature, and enjoy the process as the food cooks. This is pure meditation after a busy week – and precisely what the charcoal grill provides.

ONLY ONE ORIGINAL Weber's founder, George Stephen, invented the World's first kettle bbq. The innovative and meticulously designed kettle makes it possible to barbecue just about anything in the comfort of your garden.
The Weber charcoal barbecue range is varied there's a barbecue to suit everyone and every occasion with portables, standard garden and larger specialist models available.

Weber charcoal barbecues assist you in becoming a master at controlling temperature and cooking times in all kinds of weather, to get the perfect result for chicken, fish, legs of lamb and whole beef roasts.

Tuck into an authentic barbecue taste with our collection of charcoal models. The iconic designs feature quality materials, handy thermometers and innovative cleaning systems to make it easier than ever to get grilling.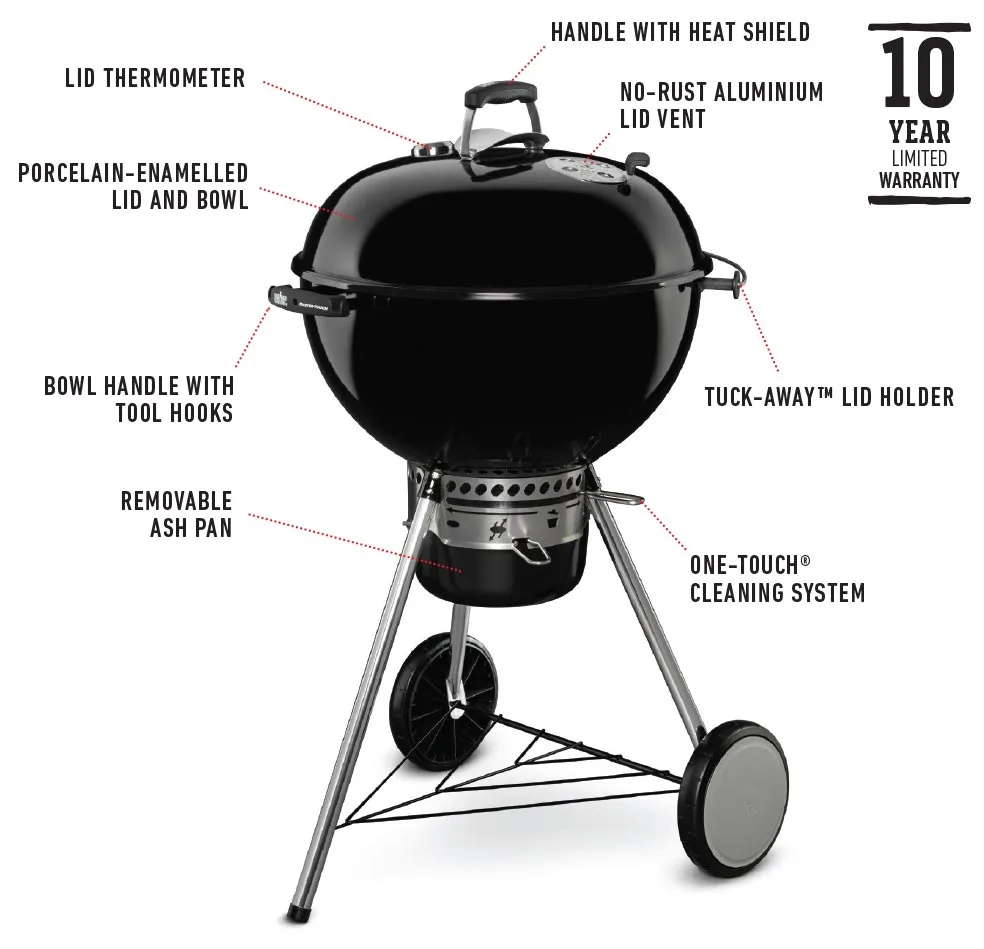 Features In Brief
Bowl and Lid – Weber kettles combine traditional design with an innovative production. Made of steel and coated with porcelain enamel, the bowl and lid are formed exactly right to allow heat to circulate around the inside of the grill for even cooking. The porcelain enamel is baked on at approximately 1500°F ensuring that your barbecue will not only withstand the heat, but also resist rust- and burn- through. In addition, the smooth, hard-wearing surface makes clean up easy.

Damper – Closed-lid cooking is a signature Weber design. The rust-resistant aluminium damper allows for proper airflow and complete heat control, which makes for superior grilling.

Cooking Grate – Weber's charcoal cooking grates are durable, easy to clean, and lock in the heat for those beautiful sear marks. The hinged grates allow you to conveniently add charcoal while cooking without having to remove the food and lift the entire grate.

Charcoal Grate – The Weber charcoal grate has what it takes to withstand the heat. The grate is made of heavy-duty plated steel to prevent warp or burn through.

One-Touch Cleaning System – The One-Touch cleaning system makes clean-up hassle free. As you rotate the handle, the three blades in the bowl move ash through the vents in the bowl and down into the ash catcher. The aluminium ash catcher lifts out for easy ash disposal and cleaning. The fully enclosed ash catcher keeps ashes from blowing around and is easily detached for quick and clean ash removal. This not only makes cleaning out the bowl a breeze but also helps keep you cooking longer by preventing the build-up of ashes that blocks vents and suffocates the fire.
Like all of Weber's charcoal barbecues, the lid and bowl are made from high quality American steel with a porcelain-enameled coating. The sturdy design also means that a Weber charcoal barbecue can stand outside all year round, in any kind of weather. It's designed to handle these conditions, so that you can barbecue all kinds of food, all year round.

Cool colours: We have a range of Weber charcoal barbecues available in these various cool colours: Black, Crimson, Ivory, Slate, Smoke and Spring Green. From the cute and portable Smokey Joe to the upright Original and Premium Kettle barbecues, there's plenty of choice to help you brighten up your barbecuing!

The following Weber Charcoal barbecue models are available from BBQs 2U:-

Weber Smokey Joe BBQs
Weber Compact BBQs
Weber Original Kettle BBQs
Weber Original Kettle Premium BBQs
Weber Performer BBQs
Weber Smokey Mountain Cookers
Weber Fireplace

BUILT TO LAST : Weber is so confident in its charcoal barbecues that they offer a 10 YEAR limited warranty.
What's the difference between Direct and In-direct Cooking?
Direct cooking is simply grilling foods directly over the heat source. For In-direct cooking the heat source is placed to the side of the food, not directly under it. As a general rule, foods that take less than 25 minutes to cook, like boneless chicken breasts, pork chops, and steak are barbecued by the 'Grill' or Direct Method.

Foods that require longer cooking times at lower temperatures, like whole chicken and roasts, should be barbecued by the 'Roast' or In-direct Method. You can use either method on both Weber charcoal barbecues and Weber gas barbecues.
What is the proper setting for the air vents on my Weber kettle?
Your charcoal fire needs adequate airflow to burn properly. Fully open the top and bottom vents on the barbecue while you are grilling. Close them only when you are finished grilling and ready to extinguish the flames. Remember to sift out the ashes and remove them from the ash catcher when they are cool.
Is there an easy way to get the coals started?
Actually there are a few tricks, and any one of them will help: using the right charcoal, using Weber's special Fire Lighter Cubes, and using a Weber Chimney Starter.
Choosing the right charcoal:
Premium Express Lumpwood Charcoal
Perfect for grilling, the beech, oak and hornbeam lumpwood charcoal burns at high temperatures and lasts for up to an hour.
Restaurant Quality Lumpwood Charcoal
The restaurant quality fast-lighting charcoal is made from Quebracho from South America, burns at high temperatures, and provides a great option for all cooking methods.
Premium Long Lasting Briquettes
Made from mineral based coal, the long lasting briquettes take longer to light (around 30 minutes with a Weber Chimney Starter) but once going last upto four hours. They also burn at a consistent temperature making them the ideal choice for roasting.
Lighter cubes:
To light briquettes safely and with minimum hassle, try Weber fire lighter cubes. These solid fuel cubes light as easily as a birthday candle (even when wet!) and are odourless and non-toxic, leaving no residue to mar the flavour of your delicious grilled meal.
Weber Chimney Starter:
By far the quickest and easiest method of lighting a barbecue and achieving a great even heat. The Weber Chimney Starter holds the coals in a cylinder for fast, easy lighting. Fill the canister-shaped starter with the proper amount of charcoal, place on the charcoal grate over two or three fire lighter cubes, ignite the cubes and let the coals burn until they have a coating of light grey ash. Pour the hot coals onto the charcoal grate and arrange for Direct or In-direct cooking with long-handled tongs. For safety's sake, wear Weber barbecue mitts.
Looking for your Weber instruction manual? Download the Weber Owners Guide for your model below:-



Weber Smokey Joe Premium BBQ Instruction Manual



Weber Jumbo Joe BBQ Instruction Manual



Weber Compact BBQ Instruction Manual



Weber One Touch Original BBQ Instruction Manual



Weber Weber One Touch Premium BBQ Instruction Manual



Weber Fireplace / Fire Pit Instruction Manual



Weber Smokey Mountain Cooker Instruction Manual



Weber Charcoal Grill Owners Guide