Masterbuilt BBQs
Masterbuilt is one of America's largest BBQ brands, established in 1973 and is known worldwide for it's innovative, versatile and affordable product range. In 2020 they launched the world's first Masterbuilt 'Gravity Series' digitally controlled charcoal BBQ and smoker, and what an impact it made, innovation at it's best. This year will no doubt be even better as Masterbuilt's introduce a further two exciting models to the 'Gravity Series' family.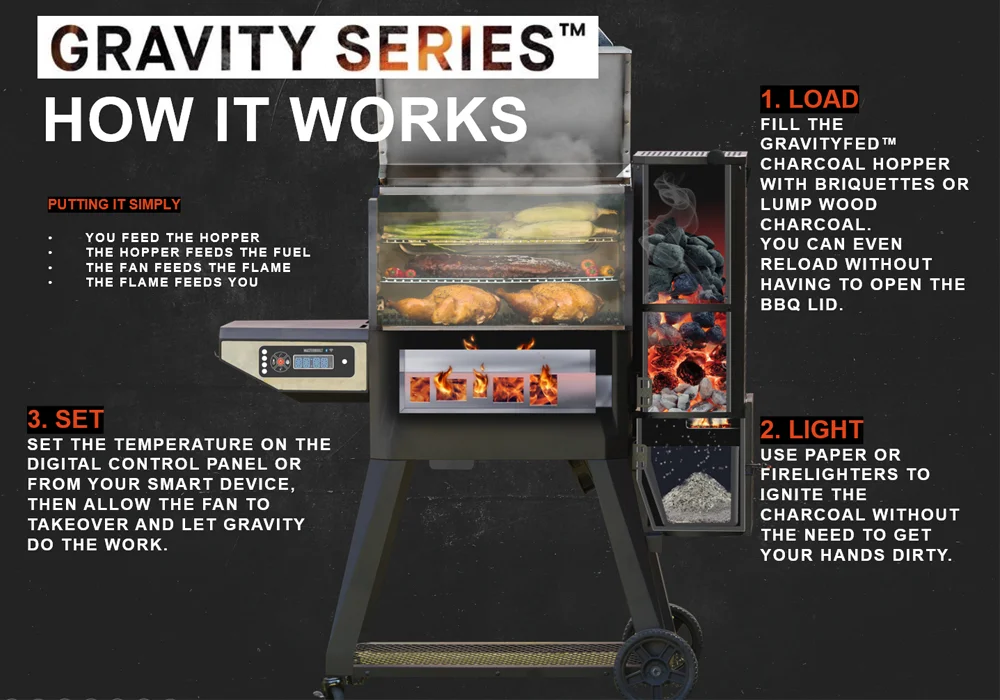 Gravity Series Grills Have Something For Everyone
Like the grills themselves, Gravity Series users are versatile and come from all different types of grilling & smoking backgrounds. From first-time grill owners to seasoned pit masters, our grills have something for everyone. Easy to use and fun to master—that's the Gravity Series way.
In short the 'Gravity Series' is charcoal BBQing made simple. It's as convenient as a gas BBQ, it's as controllable as a gas BBQ, it's as efficient as a gas BBQ and it's as clean as a gas BBQ… but it has all the flavour, fun and personality that only charcoal brings to the outdoor cooking experience.
The 'Gravity Series' has already proved itself to be a huge success within the BBQ community. These awesome Masterbuilt products appeal to a wide audience of people who want natural charcoal flavoured food with none of the hassle currently associated with charcoal cooking. Masterbuilt are so excited by this, the world's first Masterbuilt 'Gravity Series' family, it's real BBQ, real easy!
With the Gravity Series Digital Charcoal Grill + Smoker by Masterbuilt, you can smoke, grill, sear, bake, roast and so much more. Set the temperature on the digital control panel or your smart device and the DigitalFan maintains the desired cooking temperature. The GravityFed™ charcoal hopper holds up to 8 hours of charcoal and gravity ensures you have constant fuel to the fire. The reversible smoke + sear cast-iron grates and FoldAway™ warming + smoking racks add up to a total of 1050 square inches of cooking space. Master the art of charcoal grilling and smoking with Masterbuilt.
Take a look at the different models Masterbuilt Gravity 560, Masterbuilt Gravity 800 & Masterbuilt Gravity 1050 Series...