Masterbuilt BBQs
Masterbuilt is one of America's largest BBQ brands. Established in 1973 and known worldwide for its innovative, versatile and affordable product range. In 2020 they launched the world's first Masterbuilt 'Gravity Series' digitally controlled charcoal BBQ and smoker. This innovative new series offers the control of gas BBQs with the flavour and fun of charcoal. This year sees two exciting new models added to the 'Gravity Series' family!
Gravity Series BBQs
The 'Gravity Series' is charcoal BBQing made simple. It's as convenient, controllable, efficient and clean as a gas BBQ… but it has all the flavour, fun and personality of charcoal.
Like the grills themselves, Gravity Series users are versatile and come from all backgrounds. From first-time grill owners to seasoned pit masters, our grills have something for everyone. Easy to use and fun to master—that's the Gravity Series way.
Versatile & Easy Cooking
With the Gravity Series Digital Charcoal Grill + Smoker by Masterbuilt, you can smoke, grill, sear, bake, roast and so much more. Set the temperature on the digital control panel or your smart device. The DigitalFan maintains the desired cooking temperature. The GravityFed™ charcoal hopper holds up to 8 hours of charcoal and gravity ensures you have constant fuel to the fire. The reversible smoke + sear cast-iron grates and FoldAway™ warming + smoking racks add up to 1050 square inches of cooking space.
These innovative grills deliver exceptional performance, convenience, and versatility for all your outdoor cooking adventures.
Master the art of charcoal grilling and smoking with Masterbuilt.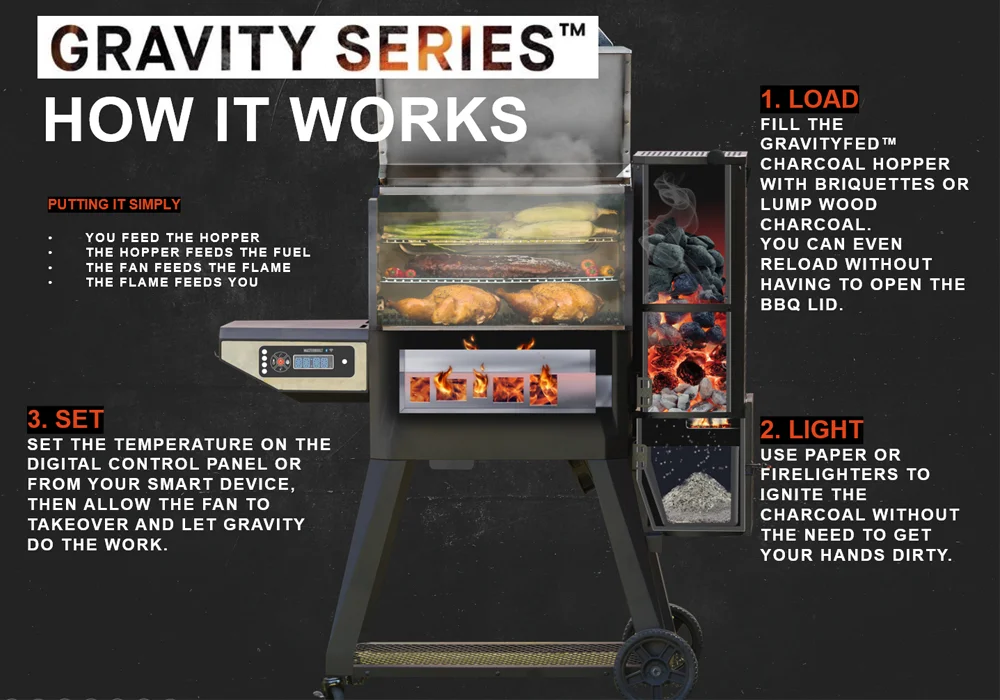 MasterBuilt BBQ Models
Take a look at the different models Masterbuilt Gravity 560, Masterbuilt Gravity 800 & Masterbuilt Gravity 1050 Series... Not forgetting the awesome Masterbuilt Portable Charcoal Grill
Welcome to our comprehensive category page for Masterbuilt Gravity Series BBQs. Discover the ultimate cooking experience with the 1050, 800, and 560 models. These innovative grills are designed to deliver exceptional performance, convenience, and versatility for all your outdoor cooking adventures.
Masterbuilt Gravity Series BBQs combine the traditional smoky flavor of charcoal grilling with the ease and precision of a gas grill. They feature a unique gravity fed hopper system that automatically dispenses charcoal as needed, ensuring consistent heat and exceptional flavor. Let's explore the key features and benefits of each model:
Masterbuilt Gravity Series 1050:
The Masterbuilt Gravity Series 1050 is the flagship model, offering unrivaled power and capacity. With its large cooking area and robust construction, it's perfect for hosting big gatherings and catering to a crowd. This model comes equipped with advanced features like built-in Wi-Fi, Bluetooth connectivity, and a dedicated app. The app allows you to monitor and control your grill remotely, making it easier than ever to achieve perfect results every time.
Masterbuilt Gravity Series 800:
The Masterbuilt Gravity Series 800 is a versatile mid-sized grill that strikes a balance between capacity and portability. It offers ample cooking space to prepare meals for family and friends while remaining easily transportable. With its gravity fed hopper system and precise temperature control, you can effortlessly smoke, grill, bake, roast, and more. Plus this model has a griddle plate. The Bluetooth feature enables you to connect to your grill wirelessly and monitor the cooking process from your smartphone.
Masterbuilt Gravity Series 560:
The MasterBuilt Gravity Series 560 is a compact and lightweight option that doesn't compromise on performance. It's perfect for those who want a convenient grilling solution without sacrificing flavor. This model provides excellent temperature control and can be used for a variety of cooking techniques. The built-in Bluetooth functionality allows you to connect to the grill and access real-time temperature data via the dedicated app.
Masterbuilt - Portable Charcoal Grill
The Masterbuilt Portable Charcoal Grill provides the unmatched flavour of charcoal with the ease of a gas grill on the go.
Forget manually adjusting the coals to get your grill to the right temperature – easily adjust the SteadyTemp™ dial to maintain desired temperature for up to 4 hours.
Masterbuilt Accessories:
Alongside these exceptional grills, Masterbuilt offers a range of accessories to enhance your outdoor cooking experience. Explore our collection of accessories, including grill covers, searing grates, rib racks, cast iron griddles, smoking racks, and more. These accessories are specifically designed to work seamlessly with Masterbuilt Gravity Series BBQs, enabling you to expand your culinary repertoire and achieve delicious results.
Shop Masterbuilt Grills Now
At BBQs 2u, we take pride in offering top-quality Masterbuilt Gravity Series BBQs and accessories. Whether you're a seasoned pitmaster or a grilling enthusiast, our range of products provides unmatched performance, convenience, and flavour. With our easy-to-use website, secure ordering process, and prompt delivery, you can embark on your grilling journey with confidence. Don't forget our generous loyalty programme.
Experience the future of outdoor cooking with Masterbuilt Gravity Series BBQs. Shop now and elevate your grilling game to new heights!