Weber Q BBQs - Serious Grilling Fun | Q1000 Q1200 Q2200 Q3200
The Weber Q BBQs have all the advantages of a Weber gas BBQ's and is a good supplement to a Weber Charcoal BBQ. Cooking healthy and delicious meals is so easy with a Weber Q. The easy light ignition starts you up quickly, then just let it heat up for 5 minutes and your ready to go!
Back in 2003 when the first Weber Q barbecue was launched, its innovative compact design and ease of use made it one of a kind. Over the years, not only has the Q become a household name, but is now Weber's most popular series of bbqs.
The Q ranges in size from the smallest portable Q 1000 gas bbq; ideal for the thrill-seeking griller on the go, to the largest Q 3200 gas bbq made for the city dweller with a smaller patio. Also featured in the series is an electric portable bbq. Just plug the electric Q 1400 into an outdoor electrical supply and expect the same superior results as the gas barbecue. All Q bbqs ignite with the push of a button and are equipped with porcelain-enameled, cast-iron cooking grates.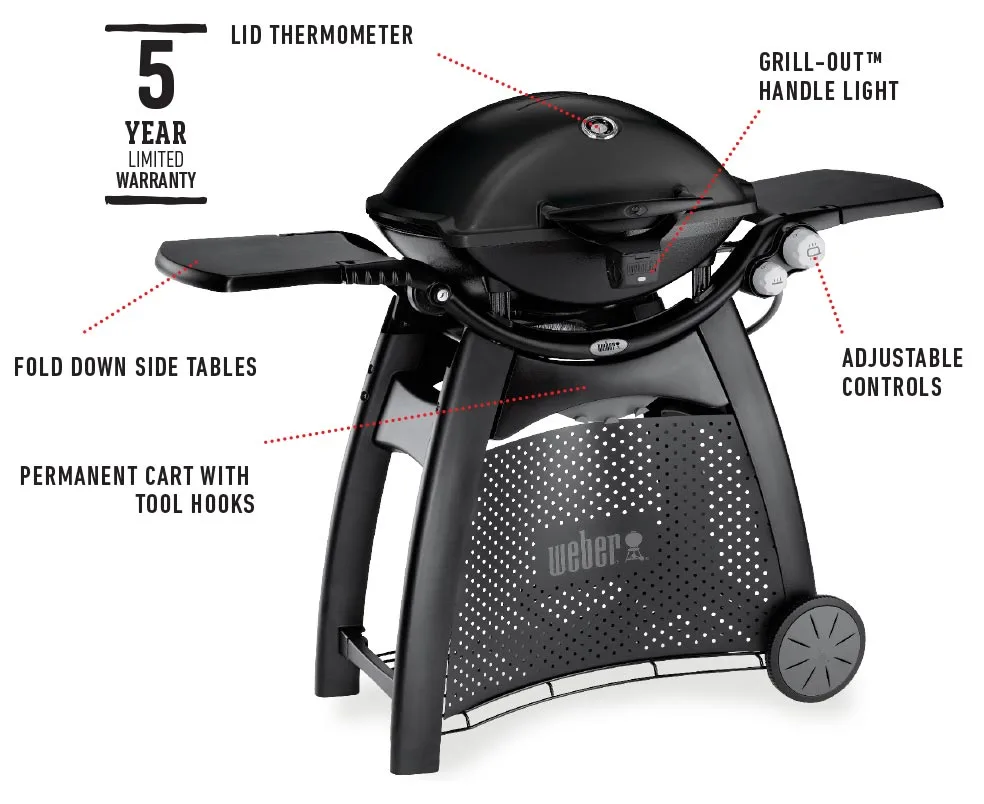 The Weber Q barbecue has a modern compact design and yet still has a large cooking surface. The Weber Q barbecue is great at home on the patio, but can also be be taken out an about. Weber Q barbecues are strong light and user-friendly with a modern design that radiates good taste.
The lid and base are made from cast aluminium. It is rounded and conveys fat and juices down into a small drip tray at the bottom of the base. It is, therefore, easy to take the drip tray out and clean out the fat.
You can cook for up to 6 people on the portable Weber Q1200 BBQ, up to 8 people on the Weber Q2200 BBQ and on the Weber Q3200 BBQ you can cater for a crowd!
Weber Q1000 BBQ - Cute, compact and great for camping, picnics or the beach. Choose a gas Weber Q1200 in Black or 5 other funky colours.  Or theres the Weber electric Q1400.
Weber Q2200 BBQ - The perfect size for everyday as well as weekends away! Choose from Gas or electric Weber Midis.
Weber Q3200 BBQ - The biggest in the Weber Q range, this stylish, curvaceous model will easily feed the whole family.
The following Weber Q barbecue models are available from BBQs 2U:-

Weber Q1000 BBQs
Weber Q1200 BBQs (available in 6 funky colours )
Weber Q1400 Electric BBQ
Weber Q2200 BBQs with stand or permanent cart
Weber Q3200 BBQs

Guaranteed for 5 years (limited warranty).
Concerned about buying online? Dont be...

Your new Weber Q barbecue is for life. And life with Weber doesn't stop once you've paid for it! At Weber they are always on hand to offer advice and help you become part of the exciting world of Weber.
Guaranteed for 5 years
Buying a Weber Q barbecue is an investment, as Weber provide a limited guarantee of up to 5 years you can be assured that in the unlikely event that something goes wrong you have the backup of Weber's fantastic customer service.
To ensure your Weber is covered, remember to register it. When you register, Weber will send you a welcome pack with recipe cards, cooking tips and info on our range of accessories. So register as soon as its delivered to you and sit back, relax and start your new life with a Weber – the UK's number one barbecue brand.