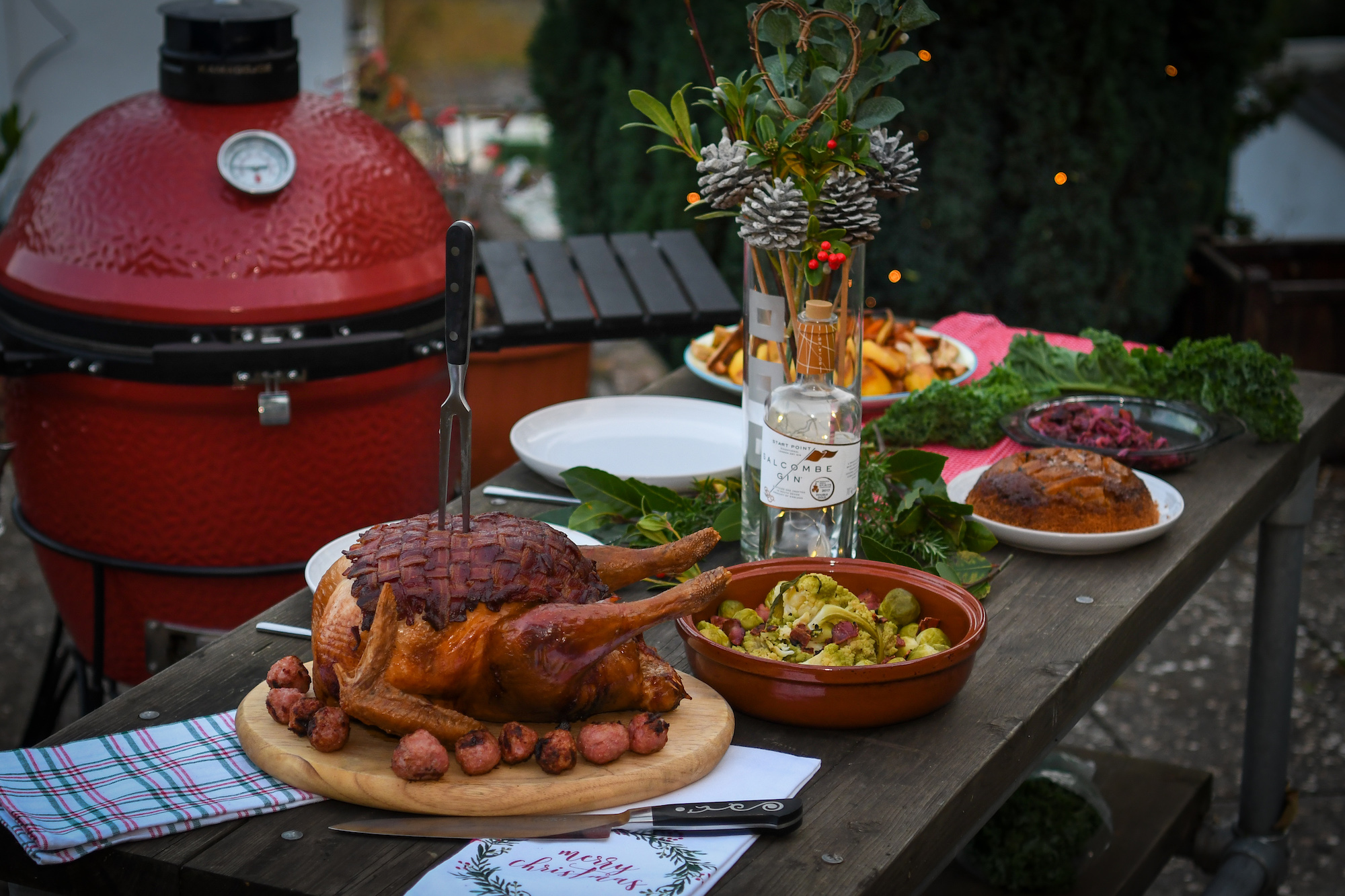 The holiday season can be hectic and stressful at times but it is also a time for cosiness, comfortability and tradition.
The lighting of the grill is a primal art, a practice in mindfulness that brings you to the immediate, completely present in the moment. Right now, all around the world friends and strangers are firing up their grills as a way to find balance and embrace relaxation, rejuvenation and gratitude.
We wish each and every one of you a Merry Christmas and Happy Holidays!
ASIAN MARINATED DEER WITH BRUSSEL SPROUTS,CHESTNUTS AND MUSHROOMS
TENDERLOIN MARINADE
4 tbsp light soy sauce
2 tbsp honey
2 tbsp lime juice
1 tbsp roasted sesame oil
2 garlic cloves, finely chopped
SIDE DISH
300g (10 oz) brussel sprouts, pre-cooked 300g (10 oz) wild mushrooms
170g (6 oz) chestnuts, pre-cooked
2 fresh chilis, cut into rings
3 tbsp oil
3 tbsp light soy sauce
2 tbsp oyster sauce
1 tbsp roasted sesame oil 1 tbsp palm sugar
1 tsp Mirin cooking rice wine 1 tsp rice vinegar
Directions
1. Mix all the ingredients for the marinade and marinade the deer tenderloins in a zip lock bag in the fridge for about 2 hours
2. Prepare your Kamado Joe for half direct, half indirect heat.
3. Add the oil into a cast iron pan and roast the brussel sprouts, the mushrooms and the chestnuts in that order over direct heat until you are satisfied with their consistency.
4. Add all your other ingredients for your side dish including the chilis, stir well, flavor again if neded and put the pan aside over indirect heat.
5. Drain your deer tenderloins well and grill them over high direct heat on the grill grates, cast iron griddle or whatever you prefer. Turn them often not to burn your tenderloins, because of the honey in the marinade.
6. When the deer tenderloins show good roasting flavors, put them aside over direct heat and let them rest there until they reach your desired internal temperature.
7. Let the tenderloins rest on your cutting board for a few more minutes, cut them, serve with your side dish and enjoy an asian influenced christmas meal.
CHRISTMAS BURGER WITH GLÜHWEIN ONIONS, SMOKED PECANS, & CAMEMBERT CHEESE
PECAN MARINADE
200g (7 oz) Pecans
50ml (3.5 tbsp)Soy Sauce
30g (1 oz) Sugar
1 tsp Vinegar
1 tsp Hot Sauce
GLÜHWEIN ONIONS
1 large onion
Butter
Salt & Pepper
200ml (3/4 Cup) Glühwein
Ground beef
Camembert cheese
Hamburger buns
50g (2 oz) sugar
50ml (3 tbsp) Water
Directions
1. Marinate pecans in soy sauce, sugar, vinegar and hot sauce. Marinate for one hour.
2. Smoke the pecans for one hour at 110C (225F).
3. Mix 50g sugar and 50ml water and heat it until its slightly brown.
4. Add the nuts and keep stirring until they are evenly coated. Cool them on a rack.
5. Lightly fry slices of one big onion with butter, salt and pepper. Add the Glühwein and let it simmer until the onions are properly soaked with Glühwein.
6. Grill the patty on medium / high heat until it's cooked medium 71C (160F).
7. Add salt and pepper on one side and add a big slice of Camembert cheese. Let the cheese melt.
TO BUILD:
Toast a bun with butter. Add salad, the patty with cheese, add the pecan and onions.
PLUM CHUTNEY
1kg (1/2 Cup) dark plums
150g (2/3 Cup) apples
2 each red onions
250ml (1 Cup) plum wine
100ml (1/2 Cup) balsamic vinegar
100g (1/2 Cup) cane sugar
1 tsp mustard
1 tbsp curry
1/2 tsp coriander, ground
1 tsp allspice, ground
1 tsp salt
chili powder to taste
4 cloves of garlic
250g (1 Cup) preserving sugar
Pinch of white pepper
Directions
1. Wash, peel and remove cores from the apples.
2. Peel the onions, cut in half, and into fine rings.
3. Put the rest of the ingredients together in a pan, put it on direct heat and pre-cook the onions for 15 minutes.
4. Then add plums and apples and cook for 10 minutes over low heat. Stir occasionally. Then take the food off the heat.
5. Stir in the preserving sugar and cook for another three minutes, always stirring, otherwise it will burn.
6. Check the consistency if your chutney it too runny add some more sugar
7. If needed season with salt and pepper.
SPICED JOETISSERIE DUCK WITH DUMPLINGS & BOOZY RED CABBAGE
1 duck
fresh potato dumpling dough
1.2kg (2.5 lbs) red cabbage
1 lemon
50g (1/2 Cup) sugar
250ml (1 Cup) of red wine
250ml (1 Cup) of port wine
DUCK SPICE MIX
2 tsp salt
1 tsp pepper
1 tsp rosemary (dried)
1 tsp onion powder
1/2 tsp sugar
100g (1/2 Cup) lard
2 onions, finely diced
2 tbsp honey
3 oranges, juiced
100g (1/2 Cup) canned cranberries
1 large apple, sliced
salt & pepper
DUCK:
1. Prepare your Kamado Joe and Joetisserie. Preheat to 200C (400F).
2. Clean the duck and rub inside and out with a spice mixture of your choice. Insert the duck onto the JoeTisserie.
3. After cooking for about 45 minutes, pierce the skin to allow fat to escape. Grill duck for 3 hours.
RED CABBAGE:
4. Salt red cabbage to maintain color. Drizzle with the juice of a lemon and lightly salt.
5. Caramalize the sugar in a large saucepan over medium heat and deglaze with vinegar, red wine and port wine. Add the lard and onion cubes. Season with salt, pepper and honey. Reduce.
6. Combine orange juice, red cabbage, cranberries and apple in the pan and simmer everything together over medium heat with the lid closed for 40-60 minutes.
POTATO DUMPLINGS:
7. Knead the fresh potato dough and shape into 6-8 equal sized dumplings.
8. Simmer in salted water for about 20-25 minutes. The dumplings are ready when they rise to the top.