General Ooni Pizza Ovens FAQs
Here is a list of the most common questions, tips, tricks and troubleshooting for Ooni Pizza Ovens, if you have a question please just contact us.
Why Buy Your Ooni Pizza Oven from BBQs 2u?

B
BQs 2u is a small independent family business, we've been selling BBQs and Pizza Ovens online since 2010, take a look at our
1000's of reviews from REAL customers.
Ooni 3 Year Warranty - FREE when you register your new pizza oven
0% Interest Payments - Buy now pay later, Pay in 3, spread over 3 months via PayPal (t's & c's apply)
Free Delivery - Fully tracked.
Take a look at our current deals on the Ooni Koda 12 and Ooni Koda 16. Both include FREE Ooni Cover for limited time only while stocks last, be quick its a cracking deal.
Can my Ooni Pizza Oven be used indoors?
No, all Ooni Pizza Ovens are designed and certified for outdoor use only.
Wood or gas-powered – is there a difference in performance or taste?
Cooking with wood will give a subtle, wood- fired flavour. There is something special about wood-fired food - the smells and sounds can really add to the overall cooking experience.
Gas is a convenient fuel source when cooking dishes which require a lower, constant temperature. The temperature of your Ooni oven can readily be controlled using the gas control dial and will not require maintenance throughout the cook.
Fuel choice is completely up to you and the cooking experience you are looking for - all Ooni Pizza Ovens are awesome in their own way!
What can I cook in an Ooni Pizza Oven?
Ooni Pizza Ovens can cook all types of food, including various pizza styles, bread, desserts, meat, fish and vegetables.
Our larger 16" ovens are more suited for some breads due to the taller ceiling inside the oven. Only cook pizza and dry bread-based dishes directly on the stone baking board. If you are cooking meat, vegetables or other dishes, use a product from our Ooni Cast Iron series or other cast iron product.
If you need any inspiration, check out some of our recipes!
Before wiping down any soot or clearing debris, make sure your oven is completely cool. Never expose warm parts of the oven to moisture.
To clean the inside of the oven, wipe down the surface with a dry paper towel.
When cool, the outside of an Ooni Oven can be wiped with a damp cloth and dried completely. The stainless steel exterior surfaces (e.g. the Ooni Karu 12 exterior or Ooni Fyra 12 chimney) can then be cleaned using a stainless steel cleaner to remove any marks or smudges.
How do I clean my stone baking board?
Your stone baking board can be cleaned by running your Ooni Pizza Oven at top temperatures. If you need to remove hard-to-budge debris from the stone, use our Ooni Pizza Oven Brush or similar hard bristle grill brush.
After each cook, when your oven is completely cool you can flip the stone baking board for a fresh start the next time you cook – the high temperatures inside your Ooni Pizza Oven will naturally clean the underside.
Where can I find the serial number?
You can find your Ooni serial number on the rear leg of your oven or on the side of your Gas Burner. It is a mixture of letters and numbers and it will be at least 10 characters.
You can also find it on a sticker on the side of the box.
Can my Ooni Pizza Oven be kept outdoors all year round?
Ooni Ovens are built to last and you can leave your oven outdoors all year long. Use our specially designed Ooni Pizza Oven Covers to keep your oven safe from the elements when not in use.
We recommend that you store your Ooni Oven indoors for extended periods without use to protect it from harsh weather conditions. But if you continue to store your Ooni Oven under an Ooni Oven Cover outdoors, we recommend bringing your stone indoors during rain and other harsh weather to protect it from getting wet or otherwise damaged.
What type of table or surface do I need?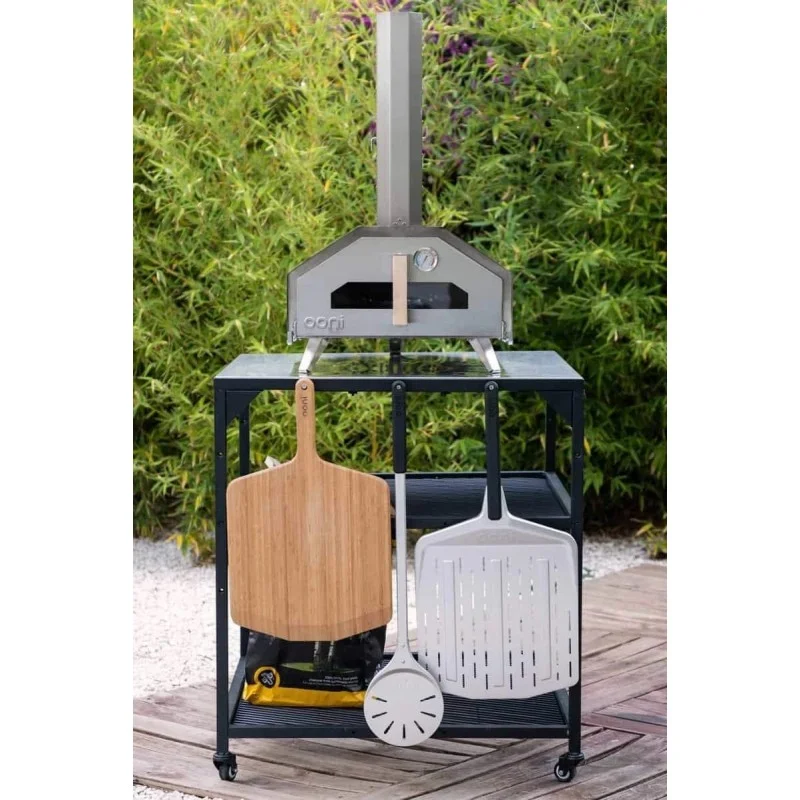 Ooni Modular tables are specially designed to be used with Ooni Ovens.. Otherwise, a stone, metal or wooden surface that is capable of holding the oven's weight will also work.
Glass and plastic are not recommended.
Can I cook in the cold or in the wind?
The ambient temperature during your cook should not affect the temperatures you achieve in an Ooni Pizza Oven. If using gas, please make sure your regulator isn't frozen when you fire up your oven. We don't recommend cooking in windy conditions - try to find a spot sheltered from the wind.
What temperature should my baking stone read when I launch my pizza?
The ideal temperature for cooking pizza
in an Ooni is between 420°C and 450°C (788°F to 852°F) in the middle of the stone baking board.
We recommend using an infrared thermometer to measure the temperature as it takes out all of the guesswork!
How do I turn my pizza?
We recommend you turn your pizza two or three times during your cook. To turn your pizza, remove it from the oven using a metal pizza peel. Rotate your pizza by turning it with your fingers while it sits upon the peel. Watch out if the crust is hot! You can then put the pizza back in the oven. Check out the Ooni Pizza Oven Accessories.
You can also use our Ooni Pizza Turning Peel to rotate your pizza while it is still in the oven.
How long does it take to cook a pizza?
The cooking time depends on the style of pizza you are hoping to achieve! A classic Neapolitan style pizza will be ready after approximately 60 seconds of baking in the oven.
How much clearance do I need around my oven?
We recommend a minimum clearance of one meter around the rear and sides of the oven and a minimum three meters clearance at the front and above your Ooni Oven.
What is a regulator and is it included?
A regulator connects the source of gas with the pizza oven (if yours is a gas pizza oven). A 37mb regulator for the UK will be included with Ooni gas pizza ovens, the "click on" type that connects to Calor Patio Gas type bottles.
Which gas bottle do I need? Can I use a 1lb Propane Gas Tank?
Ooni gas products are designed and optimised to be used with propane gas. There are lots of different kinds of propane tanks and there are lots of different regulator types. Propane tanks and gas regulators can be easily sourced at your local fuel station, hardware store or garden centre. They are also available to buy online in many regions.
If the regulator included with your oven doesn't connect to the propane tank you have, you can simply swap out the regulator for one with the correct tank fitting.
Please just make sure the mBar pressure of the regulator is the same as the mBar pressure of your Ooni.
UK Ooni owners can replace the hose and regulator that comes with their Burner with a hose and clip like this. This will allow you to hook up to a 440 g (1 lb) camping gas tank in the UK. These are a butane / propane mix which are certified for use with Ooni gas products.
For our EU Ooni owners, due to the range of different millibars of pressure used, we would recommend checking in with your local gas specialist regarding an appropriate connection to be compatible with 1 lb propane tanks.
37mBar UK gas tanks such as Calor Patio Gas.
Can I use wood at the same time as gas?
No, solid fuels and gas cannot be used at the same time.
Why can't I use the normal door when using gas?
It is important for safety and ventilation to only use the open pizza door when fueling the Ooni Pro 16 oven with gas, or to use no door when using Ooni Karu 12 oven with the gas burner attachment.