Weber Q BBQ Comparison Review - Q1000, Q1200, Q1400, Q2200, Q3200
The Weber Q BBQs have all the advantages of a Weber Gas BBQ's and are a good supplement to a Weber Charcoal BBQ. Cooking healthy and delicious meals is so easy with a Weber Q barbecue. The easy light ignition starts you up quickly, then just let it heat up for 5 minutes and your ready to go!
The Weber Q barbecue has a modern compact design and yet still has a large cooking surface. The Q range is great at home on the patio, but can also be be taken out an about. Weber Q BBQs are strong, light and user-friendly with a modern design that radiates good taste. The lid and base are made from cast aluminium. It is rounded and conveys fat and juices down into a small drip tray at the bottom of the base. It is, therefore, easy to take the drip tray out and clean out the fat.



Take a look at BBQs 2u 5 Star reviews from previous customers, as a family business passionate about Weber barbecues you can be assured your in the best possible hands throughout your purchase and after support.
There are 5 in the Weber Q line up, Weber Baby Q1000, Weber Baby Q1200, Weber Electric Q1400, Weber Midi Q2200 and the Weber Family Q3200. You can cook for up to 6 people on the portable Weber Baby Q1200, up to 8 people on the Weber Midi Q2200 and on the Weber Family Q3200 you can cater for a crowd!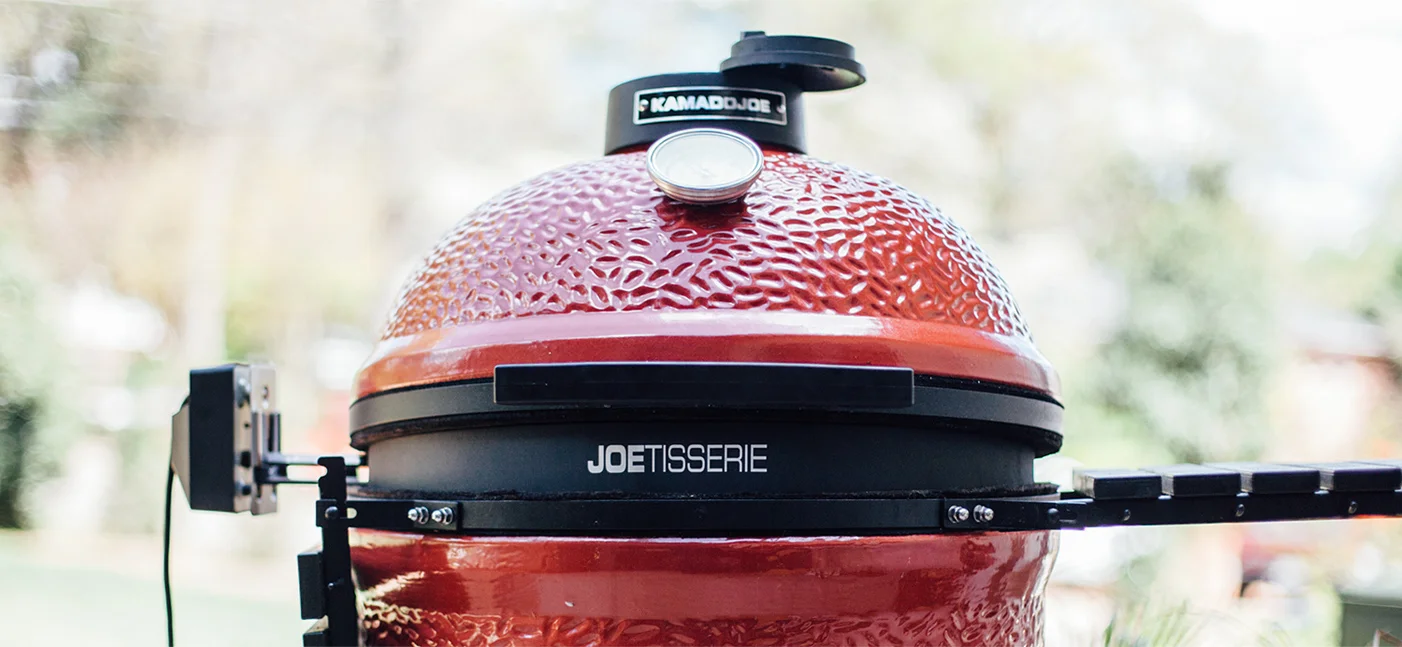 Or have you seen the new Kamado Joe BBQs. Once pre-heated, Kamado grills are very stable and can cook at low or high temperatures for as long as the grill has charcoal and oxygen. Kamado grills are durable and often made from ceramic compounds.
Kamado grills take their name from the term used to describe a traditional Japanese wood or charcoal fueled cooking appliance called a kamado. A traditional kamado was made from clay or other ceramic material to create a large urn or "egg" like vessel, similar to a tandoor, whose round shape and heavy construction allowed unique cooking benefits.
Undoubtedly, ceramic grills are the best kamado grills in terms of temperature control, durability and versatility. Definitely an investment for years to come. Take a look at the new Kamado Joe Classic 3 and if your cooking for a crowd the Kamado Joe Big Joe 3 is a must.
Take a look at the Weber Q TV advert shown on UK television channels
We are often asked what are the differences between these Q models, so we have decided to write up a Weber Q Comparison review guide for you.
Weber Baby Q - So cute and curvy the Weber Baby Q range, will fit neatly into the boot of your car for day trips or weekends away. The Weber Baby Q is fun and funky available with or without a collapsible stand. Serious grilling fun. There's a new look for the Weber Q1000 BBQ which means added functionality and stunning design for 2014.The Weber Q1000 and Q1200 barbecue range is perfect for spontaneous picnics, camping, festivals and holidays - just grab it and go...ready to cook on within a minutes. No mess. Choose a gas Weber Baby Q in gas or the electric Baby Q1400 where naked flames are an issue. The electric Weber Q1400 is ideal for city apartments with balconys.
What is the difference between a Weber Q1000 and a Q1200 BBQ? - The Q1200 has the following features compared to the Q1000: Side Tables, a taller lid profile (so you can do beer can chicken etc), a built in thermometer and electronic ignition rather than a mechanical push button.
Weber Baby Q barbecues run off Weber's small handy disposable 445g gas canisters, which can deliver around 5 hours of cooking time. The Weber Q1000 and Q1200 is just as happy at home as it is out exploring the world. If home is where the heart is, then you can connect a refillable gas cylinder using the Weber Adapter kit. You can even connect these Baby Qs (Q1000's and Q1200's) to your caravan's gas supply using the Weber Q Caravan Adapter Kit. Of course all the Baby Q BBQs can use Weber's collapsible rolling cart which is designed to lift your Weber Q to the perfect working height, it also lets you wheel it along. The trolley is also easy to fold down giving you the option to take it with you – wherever you want to go!
Great things come in small packages! If you want all the performance you expect from a Weber gas barbecue, look no further than the Weber Midi Q. The Weber Midi Q is the perfect size for everyday as well as weekends away!This mid-sized Weber Q2200 barbecue has a new lease of life with a choice of stylish stand for 2014 – the screen hides the gas bottle so the barbecue looks better than ever, with no compromise on performance. On the Weber Midi Q / Weber Q2200 BBQ it features a taller lid with integrated thermometer ideal for cooking larger joints of meat - these are additional features compared to the previous Q200. Perfect for use in the garden or can easily be packed into the car for picnics or camping. It has a cooking capacity enough for up to 8 people. Lightweight lid and body are cast aluminium, stainless steel burner, Fold out tables and Quick start. The electronic ignition starts the Q2200 quickly and easily. The cast iron cooking grate is porcelain-enamelled and conducts heat evenly across the entire surface. Controlling the heat is easy - simply turn up or down like you would your hob.The Weber Midi Q is available with a collapsible stand or on a more permanent cart which can be wheeled around your patio when required. Both Weber Midi Q's are supplied with a 27mm clip on gas regulator, which simply clips straight onto Calor Patio Gas type bottles.
The Weber Family Q / Q3200 BBQ is the daddy bear of the Weber Q range. With a large cooking area for all those hungry mouths and the same sleek, curved styling unique to the Weber Q.The Weber Family Q / Weber Q3200 BBQ has all of the fantastic features of the original Weber Q range. The biggest in the Weber Q range, this stylish, curvaceous Weber Family Q model will easily feed the whole family. With an impressive 464inch² cooking grate area and super strong design the Weber Q3200 Barbecue is the big brother of the Weber Q range and with two burners, you can easily grill or roast great tasting food.The Q3200 boasts the following features: Built-in thermometer, Grill-Out handle light, lightweight lid & body are cast aluminium, fold out tables and Quick start. The electronic ignition starts the Q320 quickly and easily. Not to mention two stainless steel burners to deliver maximum heat. Turn off the inner burner for 'roasting' and 'baking' on your Weber Q3200 barbecue.The wheeled cart makes it easy to move around your garden or patio. The Weber Family Q are supplied with a 27mm clip on gas regulator, which simply clips straight onto Calor Patio Gas type bottles.
Weber Baby Q | Q1200 vs Weber Midi Q | Q2200 vs Weber Family Q | Q3200
Ok so lets get down to the nitty gritty and put these clever stylish barbecues side by side and see what they've got to offer you.
| | | | |
| --- | --- | --- | --- |
| | Weber Baby Q1200 | Weber Midi Q2200 | Weber Family Q3200 |
| Stainless Steel Burners | 1 | 1 | 2 |
| Fuel | Weber Disposable Gas Canisters | Calor Patio Gas | Calor Patio Gas |
| Ignition System | Electronic | Electronic | Electronic |
| Cooking Grates | Porcelain-Enamelled Cast Iron | Porcelain-Enamelled Cast Iron | Porcelain-Enamelled Cast Iron |
| Thermometer | Yes | Yes | Yes |
| Side Tables | Folding | Folding | Folding |
| Cooking Area cm2 | 1355 | 1806 | 2994 |
| Gas Consumption kw/h | 2.64 | 3.51 | 6.35 |
Guaranteed for 5 years
Buying a Weber Q barbecue is an investment, as Weber provide a limited guarantee of up to 5 years you can be assured that in the unlikely event that something goes wrong you have the backup of Weber's fantastic customer service.