Whats so good about a Kamado Joe BBQ?
These world-renowned ceramic grills pack the latest technology and meticulous craftsmanship inside each iconic red barbecue. The thick-walled, heat-resistant shell locks in smoke and moisture at any temperature. The built quality of the Kamado Joe is one of the best we've ever seen. It features a very thick walled, heat-resistant ceramic shell that manages to retain heat incredibly well for very even cooking.
Ceramic is also great for increasing charcoal efficiency. You don't need as much charcoal to reach the same temperatures and it will burn longer in a ceramic grill. Also, there is usually a higher moisture retention when cooking on a ceramic Kamado. With a little practice you'll generally be able to get juicer meat from a ceramic shell.
Kamado Joe grills use true charcoal or lump charcoal fuel rather than the presoaked charcoal or traditional charcoal and lighter fluid. Cooking in a Kamado style grill provides true smoke and charcoal flavor — not the flavor of the lighter fluid.
Lifetime Warranty Anyone?
Limited Lifetime Warranty on Ceramic Parts - Kamado Joe warrants that all ceramic parts used in this Kamado Joe grill and smoker are free of defects in material and workmanship for as long as the original purchaser owns the grill.
5-Year Warranty on Metal Parts - Kamado Joe warrants that all metal and cast iron parts used in this Kamado Joe® grill and smoker are free of defects in material and workmanship for a period of five (5) years.
3-Year Warranty on Heat Deflector and Pizza Stone - Kamado Joe® warrants that the heat deflector frame and ceramic plate(s) and the pizza stone used for the Kamado Joe® grill and smoker are free of defects in material and workmanship for a period of three (3) years.
1-Year Warranty on Thermometer and Gaskets - Kamado Joe® warrants that the thermometer and gaskets used in this Kamado Joe grill and smoker are free of defects in material and workmanship for a period of one (1) year.
Why Buy Your Kamado Joe from BBQs 2u?

BBQs 2u is a small independent family business, we've been selling BBQs and Pizza Ovens online since 2010, take a look at our 1000's of reviews from REAL customers.
Lifetime Warranty on ceramic parts - Kamado Joe 5 Year Warranty on metal parts
0% Interest Payments - Buy now pay later, Pay in 3, spread over 3 months via PayPal (t's & c's apply)
Free UK Delivery* - Fully tracked, fastest Kamado Joe delivery in UK.
Kamado Joe Love To Innovate
With a vast range of attachments, there's nothing you can't cook in it, from low-and-slow dishes to grilling and searing at scorching temperatures.
Prices start at £499.00 for Kamado Joe Junior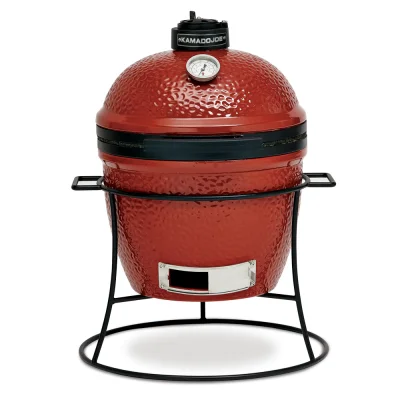 Kamado Joe Kettle Joe
NEW Kettle Joe is the first of the kettle-grill category to integrate a ceramic firebox and the ability to fit a SlōRoller – Kamado Joe's revolutionary innovation allowing the versatility to transform a grill into an oven or smoker.
Kamado Joe Kettle Joe RRP £549.00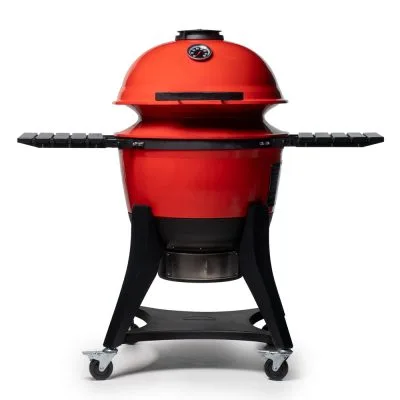 Kamado Joe iKamand
The meat thermometer that connects to your phone – and controls the fire remotely – This smart device fits to the lower vent of the barbecue and controls the airflow to the fire, giving you total control over the grill's heat, smoke and meat target temperature from a free app on your phone. It is easy to set up: download the free iKamand app, link to the iKamand and connect it to your home Wi-Fi. The app includes recipes, with temperature settings already programmed into the software. Just sit back, grab a cold one and enjoy juicy, flavour-filled food with little effort.
Kamado Joe iKamand – RRP: £229.00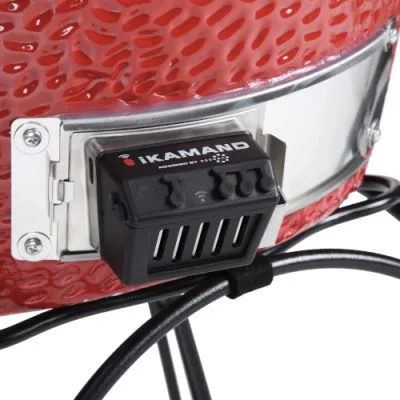 Kamado Joe DoJoe
The pizza oven attachment – The durable cast-aluminum DōJoe transforms your Kamado Joe into a best-in-class pizza oven. Built-in supports ensure a precise, optimum distance between the heat deflectors and pizza stone. You're guaranteed a crispy crust on the bottom, while the altered airflow traps heat in the dome above the pizza for perfect toppings. This combination of convection airflow above and conduction heat below creates a uniform, even cooking environment surrounding the pizza as it bakes for masterful results.
Kamado Joe DoJoe – RRP: Starts from £319.00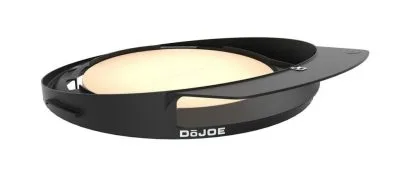 Kamado Joe JoeTisserie
The rotisserie – Mouth-watering rotisserie chicken licked with barbecue smoke with minimal effort. The cast aluminium JoeTisserie harnesses the self-basting action of a rotisserie inside your Kamado Joe, with a quiet-but-powerful motor that can spin up to 10kg of chicken, rib, or pork shoulder for supreme pulled pork. With adjustable forks for ultimate balance, the distinctive wedge shape allows cooks to seal off the kamado dome for optimal heat retention, while the constant, steady rotation preserves meat's succulence for an even cook.
Kamado Joe JoeTisserie – RRP: Starts from £279.00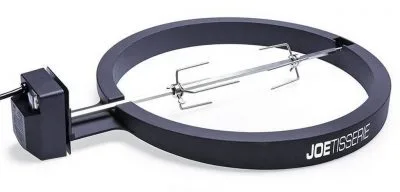 Kamado Joe Big Block Charcoal
The ultimate charcoal – Restaurant grade charcoal is additive-free and designed to burn for longer at a more consistent temperature. You'll produce better flavour, better smoke and it won't spark or spit as much as smaller lumps.
Working with Argentinian charcoal masters, Kamado Joe developed an exclusive blend of hardwoods so legendary for their density they're called 'Axe Breakers' by locals. Painstakingly roasted in traditional outdoor ovens, the all-natural lump charcoal burns longer, cleaner and better than anything else on the market. Producing a refined, distinctive flavour, many barbecuers find Kamado Big Block Charcoal imparts all the smoky flavour they're looking for instead of feeling the need to add wood.
Kamado Joe Big Block Charcoal – RRP: Starts from £25.90