Gozney Pizza Ovens
Gozney Pizza Ovens - Unlock the Art of Perfect Pizza
Elevate Your Pizza-Crafting Journey with Gozney Roccbox and Gozney Dome.
Pizza has been a beloved food worldwide for generations. And what's better than homemade? Nothing beats the taste of a crispy crust and delicious melted cheese straight from your kitchen. But to achieve the ideal pizza, you need the right equipment, and that's where Gozney pizza ovens come in.
Gozney's exceptional range of pizza ovens bring the art of wood-fired cooking to your fingertips. Whether you're a passionate home cook or a professional pizzaiolo, Gozney Pizza Ovens deliver unparalleled flavour, performance, and versatility. Explore our collection, featuring the portable Gozney Roccbox and the gorgeous Gozney Dome, along with an array of accessories to enhance your pizza-making experience.
Gozney Roccbox: Revolutionary Original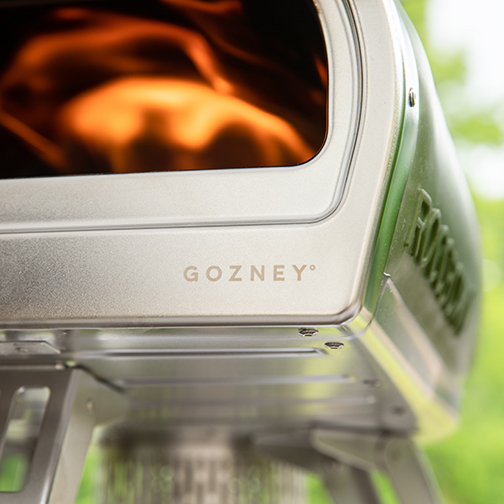 Gozney Roccbox: Portable Pizza Oven Perfection
The Gozney Roccbox is the ultimate portable pizza oven that allows you to create authentic wood-fired pizza anywhere you desire. With its sleek design and advanced technology, Roccbox brings professional-grade cooking to your backyard or on-the-go adventures. Key features include:
Unmatched Performance: Roccbox reaches temperatures of up to 932°F (500°C) in just 20 minutes, providing the perfect environment for achieving a crispy, charred crust and meltingly gooey toppings.
Versatility Redefined: Besides making incredible pizzas, Roccbox is versatile enough to cook a variety of dishes, from bread and roast meats to vegetables and desserts. Unlock your culinary creativity with this multi-purpose oven.
Portability and Convenience: Roccbox's compact size and lightweight construction make it incredibly portable. Take it camping, to picnics, or simply move it around your backyard with ease. The included carry strap ensures hassle-free transportation.
The Gozney Roccbox is available in three colours:
Gozney Roccbox Pizza Oven - Grey
Gozney Roccbox Pizza Oven - Olive
Gozney Roccbox Pizza Oven - Black This is the stunning Tom Gozney Signature Edition, all elements of the Roccbox are BLACK, even the pizza peel that you get with it. WOW!
Gozney Dome: Next Level Versatility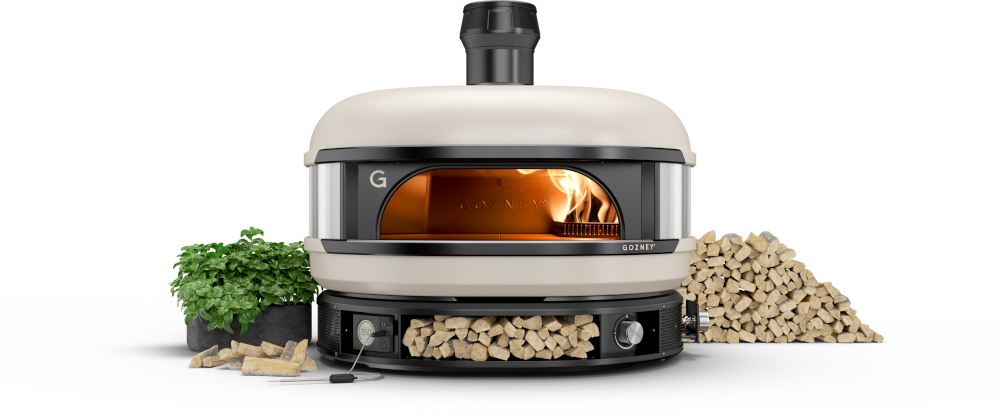 Gozney Dome: Powerhouse Oven for the Serious Pizza Enthusiast
Gozney Dome is the pioneering dual-fuel oven that brings the ancient practice of cooking with fire into the world of tomorrow. Known for superior insulation, resulting in high, maintained temperature for the perfect golden brown pizza crust. Crafted with durability and performance in mind, the Dome delivers exceptional results time after time.
Key features include:
Superior Heat Retention: The Dome's thick insulation and precision engineering provide unrivaled heat retention, allowing you to cook multiple pizzas without compromising temperature or flavor.
Spacious Cooking Area: With its generous cooking surface, the Dome enables you to create multiple pizzas, roast meats, and bake other culinary delights simultaneously. Entertain family and friends with ease.
Professional-Grade Construction: The Dome's robust stainless steel construction ensures durability and longevity. It's built to withstand the rigors of regular use and deliver consistent performance for years to come.
The Gozney Dome is available in two colours: Both are stunning... Gozney Dome Olive and Gozney Done Bone.
Complemented by a range of Gozney pizza accessories, including peels, cutters and baking stones.
Gozney - Unrivalled quality. Obsessive engineering. Built to endure.
Gozney ovens are also known for their superior insulation, which allows them to reach high temperatures quickly and maintain them for extended periods. This is essential for achieving the perfect pizza crust, as high temperatures are necessary to create the crispy, golden-brown crust that we all love.
Gozney Dome S1
New for October 2023 the Gozney Dome S1, have you seen it yet? The Gozney Dome S1 packs the same iconic performance and intuitive design of the award-winning Dome into a streamlined, propane gas-fueled package to elevate any backyard.
Looks wise you might be wondering what the differences are. As it shares its iconic shape and smooth matte painted shell. Not only does the Gozney Dome S1 look good in your garden or outdoor space, but it's made from quality materials that make it weather and water resistant and extra durable. Other new features of the Gozney Dome S1 include a built-in digital thermometer and a new low-profile dock.
What are the differences between the Gozney Dome S1 and Dome? Read our blog
Why Choose Gozney Pizza Ovens:
Unparalleled Flavour: Experience the unmistakable taste of wood-fired pizza right in your own backyard. Gozney Pizza Ovens infuse your creations with authentic smoky flavors, crispy crusts, and perfectly cooked toppings.
Precision Engineering: Each Gozney Oven is meticulously crafted using cutting-edge technology and premium materials, ensuring precise temperature control, even heat distribution, and exceptional
In conclusion, if you're looking for a high-quality pizza oven that can help you create perfect pizzas every time, then look no further than Gozney. With their innovative designs, advanced technologies, and commitment to quality, Gozney pizza ovens are an excellent investment for any pizza lover.