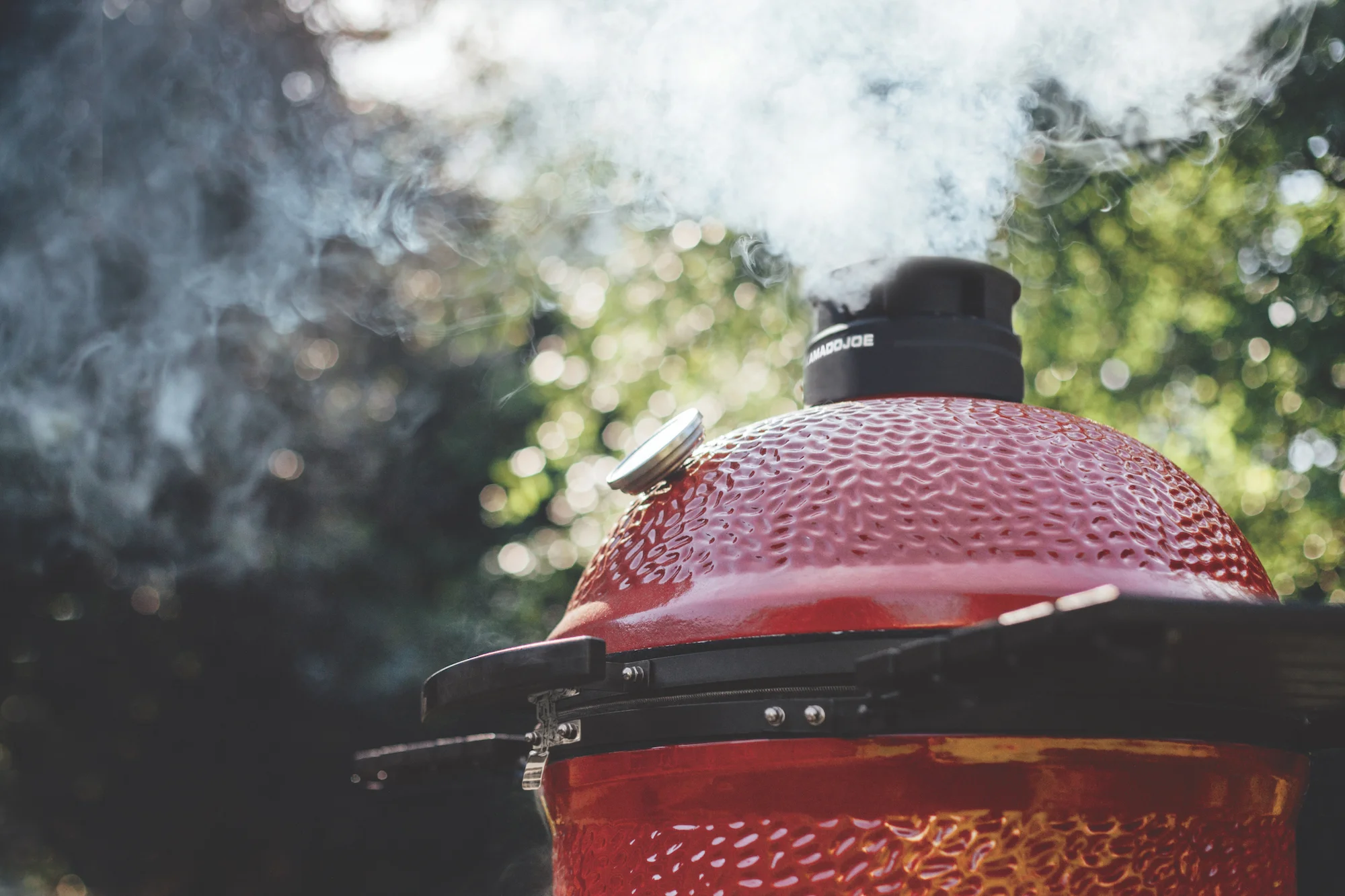 Why Kamado Joe?
We've all been there: in the middle of something you love doing, only to be frustrated by the quality of a tool. Maybe it doesn't break. But it doesn't work like it could. That was Kamado Joe's realisation about grilling. They loved it. They did it all the time. But weekend after weekend, they'd find themselves disappointed by their grills and tools. They knew there was a better way—which is what inspired them to design and develop a better grill. Kamado Joe® isn't just a line of products. It's what happens when two guys who love to grill get serious about creating the world's best ceramic cooker. Better quality. Smarter features. More innovative accessories. That's the story of Kamado Joe®.
Passion
The heart of their business isn't a business. It's a community of people who love the same thing everyone in their company loves: cooking outside with and for their friends and family. That passion is a fire that fuels them everyday in everything they do.
Quality
Crafted to perform better and last longer. That's the simple, uncompromising quality standard that drives everything Kamado Joe —from design to production. Their goal is simple: that each product bearing their name becomes a trusted part of exceptional grilling experiences..
Innovation
From their earliest days, their focus was on solving problems others hadn't or couldn't so that people could get more out of grilling. They don't settle. It's a commitment that's clear in everything from the features of their flagship grills to the size of their massive lump charcoal.
Why Buy Your Kamado Joe from BBQs 2u?

BBQs 2u is a small independent family business, we've been selling BBQs and Pizza Ovens online since 2010, take a look at our 1000's of reviews from REAL customers.
Lifetime Warranty on ceramic parts - Kamado Joe 5 Year Warranty on metal parts
0% Interest Payments - Buy now pay later, Pay in 3, spread over 3 months via PayPal (t's & c's apply)
Free UK Delivery* - Fully tracked, fastest Kamado Joe delivery in UK.
Kamado Joe Classic 2 vs Classic 3
The Kamado Joe Classic II is the most popular bbq (at the moment). This is the kamado that set a new high standard for craftsmanship and innovation, the Kamado Joe Classic range is the perfect size for typical back garden / patio grilling and smoking.
The Kamado Joe Classic III includes their newest innovation, the revolutionary SlōRoller Hyperbolic Smoke Chamber. Which harnesses the power of cyclonic airflow technology to control heat and smoke, the SlōRoller insert is designed to perfect the taste and texture of food on low-and-slow cooks up to 500°F, and is easily swapped out for heat deflector plates when searing or grilling at higher temperatures. As with its predecessor, the Classic II, it also features a thick-walled, heat-resistant shell that locks in smoke and moisture at any temperature.
Kamado Joe Big Joe 2 vs Big Joe 3
The Kamado Big Joe II shares the same uncompromising design and functionality of the Classic II series, but commanding even more cooking surface, the Big Joe is their most versatile kamado and perfect for large families or entertaining a crowd.
The Big Joe's cooking area is 5558cm2 compared to 3292cm2 of the Classic range, thats a whopping 2266cm2 extra grill-estate!
The Kamado Big Joe III shares the same amazing design and functionality of the Classic III, but commanding even more cooking surface, the Big Joe III is a versatile kamado perfect for large families or entertaining a crowd. Large enough to smoke three full racks of low-and-slow ribs, the Big Joe 3 also comes standard with the revolutionary SlōRoller Hyperbolic Smoke Chamber for perfect low-and-slow cooks, the new 3-Tier Divide & Conquer Flexible Cooking System and re-designed premium cart.
Have you seen the bundle deals we sell? *Limited Offer
Kamado Joe Bundles with FREE gifts and FREE mainland UK delivery. Small selection below:-
| | |
| --- | --- |
| Kamado Joe Classic 2 | Kamado Joe Big Joe 2 |
| | |
| | |
| Kamado Joe Classic 3 | Kamado Joe Big Joe 3 |
| | |
But what are the actual differences between version 2 and 3?
The Classic 3 and Big Joe 3 boasts these benefits over the Classic 2 and Big Joe 2:-
3 Tier cooking grates vs 2 Tier

- The Divide & Conquer system goes one step further and features a 3-tier system for expanded cooking space. The grill does not come with racks for three levels but is made to accommodate should you need to add more based on your cooking needs.

Learn

m

ore about the

Kamado Joe Divide & Conquer Cooking System.
Aluminium side tables vs Marine Grade Plastic

- The powder-coated aluminum is stronger and won't melt if you put something hot on them.

SlōRoller Hyperbolic Smoke Chamber

- The first of its kind, the revolutionary SlōRoller leverages patented, Harvard science that transforms a Kamado Joe® into one of the world's most optimal smokers. By distributing smoke and heat in rolling, recirculating waves, the SlōRoller surrounds food in clouds of delicious smoke while evenly distributing heat—resulting in enhanced flavor and significantly reduced hot spots.

Charcoal Basket vs Plate

- In place of a charcoal grate at the bottom of the firebox is a charcoal basket. It allows for improved airflow which helps the grill get up to temperature faster but it also makes ash cleanup easy. The basket locks into the flexible cooking system grid. It also has a divider which makes it easier and more economical when doing smaller cooks.

Heavy duty cart with chunky wheels

- The cart base got a major upgrade in design and now has an iKamand holder and very handy shelf, great for putting ceramic deflector plates on when not in use. It's a heavy-duty galvanized steel and features a bottom rack to store items when not in use.
Another unadvertised benefit I see is the Classic 3 and Big Joe 3 have a deeper base segment compared to earlier versions. Which gives you higher clearance over the charcoal when you want to cook on the Kamado Joe Joetisserie Rotisserie. That added clearance (about 3 to 4" additional inches) creates a much better environment for rotisserie cooking in our opinion.
Take a look at the amazing Kamado Joe BBQ Bundles we have, our limited offer includes essential Kamado Joe Accessories FREE of charge with every grill. Don't miss out!
Ok so lets get down to the nitty gritty and put these awesome ceramic grills side by side and see what they've got to offer you.
| | | | | | | | |
| --- | --- | --- | --- | --- | --- | --- | --- |
| | Joe Jnr | Classic | Classic II | Classic II Stand-Alone | Classic III | Big Joe II | Big Joe III |
| Cart | - | YES | YES | - | Heavy Duty with shelf | YES | Heavy Duty with shelf |
| Folding Side Shelves | - | HDPE Plastic | HDPE Plastic | - | Cast Aluminium | HDPE Plastic | Cast Aluminium |
| SloRoller Hyperbolic Smoke Chamber | - | - | - | - | YES | - | YES |
| Divide & Conquer Flexible Cooking System | - | 2 Tier | 2 Tier | 2 Tier | 3 Tier | 2 Tier | 3 Tier |
| 304 Stainless Steel Charcoal Basket | - | - | - | - | YES | - | YES |
| Kontrol Tower Top Vent | YES | YES | YES | YES | YES | YES | YES |
| Air Lift Hinge | - | - | YES | YES | YES | YES | YES |
| AMP Firebox | - | - | YES | YES | YES | YES | YES |
| Wire Mesh Fibreglass Gasket | - | - | YES | YES | YES | YES | YES |
| Patented Slide-Out Ash Drawer | - | YES | YES | YES | YES | YES | YES |
| Built-in Thermometer | YES | YES | YES | YES | YES | YES | YES |
| Grill Gripper | YES | YES | YES | YES | YES | YES | YES |
| Ash Tool | YES | YES | YES | YES | YES | YES | YES |
| Cooking Area Diameter cm | 34.2 | 45 | 45 | 45 | 45 | 61 | 61 |
| Cooking Area cm2 | 377.1 | 3292 | 3292 | 3292 | 3292 | 5558 | 5558 |