Kamado Joe BBQs
Kamado Joe BBQs UK - Premium Ceramic Grills
An ancient, Asian-style grill, the kamado is a thick-walled cooker that imparts rich, smoky flavor to meats, fish and vegetables. Relatively unchanged for centuries, air flows through the grill's ceramic body and out its vented dome, chunk charcoal comes to life as smoke and heat. Kamado Joe is proud to draw on that tradition, modernizing the grill's classic style with unparalleled craftsmanship, innovative accessories and a range of flexible cooking surfaces.
Kamado grills have much thicker walls and retain heat more efficiently and effectively than other grills. ... Once pre-heated, Kamado grills are very stable and can cook at low or high temperatures for as long as the grill has charcoal and oxygen. Kamado grills are durable and often made from ceramic compounds.
Why Buy Your Kamado Joe from BBQs 2u?

BBQs 2u is a small independent family business, we've been selling BBQs and Pizza Ovens online since 2010, take a look at our 1000's of reviews from REAL customers.
Buying a Kamado Joe is an investment, after all it has a Lifetime Warranty so will probably be your last bbq. Purchase with peace of mind knowing you're in safe hands with BBQs 2u.
Lifetime Warranty on ceramic parts - Kamado Joe 5 Year Warranty on metal parts
0% Interest Payments - Buy now pay later, Pay in 3, spread over 3 months via PayPal (t's & c's apply)
Free UK Delivery* - Fully tracked.
Kamado grills take their name from the term used to describe a traditional Japanese wood or charcoal fueled cooking appliance called a kamado. A traditional kamado was made from clay or other ceramic material to create a large urn or "egg" like vessel, similar to a tandoor, whose round shape and heavy construction allowed unique cooking benefits.
Undoubtedly, ceramic grills are the best kamado grills in terms of temperature control, durability and versatility. Definitely an investment for years to come.
Fuel Efficient
Another direct benefit of the heavy ceramic construction is the kamado grill's fuel efficiency. Because the thick sides retain heat so well, very little charcoal and oxygen are necessary to continue to fuel the fire - perfect for long, slow cooks or diehard grillers who cook throughout the cold winter.
Versatile Cooking Methods
Beyond the fuel efficiency, kamado grills have been designed to accommodate a broad spectrum of cooking methods. Accessories like a ceramic heat deflector turn a kamado from a direct grill to an indirect cooker, much like an oven or smoker. Add a firebox divider to create two distinct cooking zones for a true 2-zone setup. With various accessories and setups, a kamado grill can bake, roast, smoke, sear, saute, grill, and much more. 3 TIER DIVIDE & CONQUER FLEXIBLE COOKING SYSTEM Exclusive multilevel, half-rack design doubles cooking space and frees you to cook different foods on different levels and on different cooking surfaces. Click here to learn more about the Kamado Joe Divide & Conquer Cooking System
Important Notes About Kamado Grills
Not all kamado grills are equal. Some kamados, such as Kamado Joe BBQs feature a higher quality construction and feature a much better design to create a more versatile grill, such as the revolutionary SloRoller Hyperbolic Smoke Chamber insert.
Cooking temperature range​ - with a Kamado Joe bbq you can easily cook at temperatures between 200°F and 750+°F. This enables you to smoke barbecue for long periods of time. You can easily roast chickens and turkeys in the 350-450°F range. You can sear burgers and steaks in the 500-550° range. Baking pizzas at 600°F or higher is no problem. The Kamado Joe can handle a wider variety of cooking temperatures than most other grill and smoker platforms.
Heat retention​ - ceramic kamado joe grills have a lot of thermal mass that soaks up heat and holds it within the ceramics for a long time. The major advantage of this design shines through when you open the dome lid on your grill and then close it again. The grill returns to its stable temperature more quickly than charcoal grills and smokers that are made from thin metal materials.
Moisture retention​ - the shape of the Kamado Joe creates convection currents inside that create air circulation that helps retain moisture. When I open the dome lid on my Kamado Joe bbq it is quite common that my glasses fog over from the moisture. That doesn't happen on any of my other grills. The moist environment helps provide more efficient cooking without the need for a water pan.
Fuel efficiency​ - Kamado Joe bbqs can easily run in excess of 14 to 16 or more hours at smoking temperatures with no need to refuel.
Weather resistant cooking​ - Kamado Joe grill cooking is less affected by cold, rain, or wind than most other charcoal grills and smokers. The grills themselves are also usually very weather resistant in terms of being able to live outside in the weather without deterioration problems. Trying to cook on a charcoal kettle grill on a cold windy day is the exact situation that prompted me to buy my first kamado joe. Problem solved.
The Kamado Joe BBQ Choices
The Kamado Joe Classic
The Kamado that set a new high standard for craftsmanship and innovation, the Kamado Joe Classic is the perfect size for typical backyard grilling and smoking.
The Kamado Joe Classic II
The Kamado Joe Classic 2 is the latest grill in the Kamado Joe Range. Maintaining the high standards of craftsmanship and innovation synonymous with Kamado Joe this model is packed with new features, making it the most advanced kamado grill available anywhere today.
The Kamado Joe Classic III
The Kamado Joe® Classic 3 includes our newest innovation, the revolutionary SloRoller Hyperbolic Smoke Chamber insert.
The Kamado Big Joe II
Everything that made the Kamado Joe Classic II an instant hit, only bigger, the Kamado Big Joe 2 is the most versatile kamado and can easily accommodate three full racks of ribs. Designed with thick-walled, heat-resistant ceramic that keeps meat moist by sealing in smoke and flavour, the Big Joe is a work of expert craftsmanship.
The Kamado Big Joe III
Sharing the same uncompromising design, innovation and functionality of the Classic III, but the Kamado Big Joe 3 delivers even more cooking surface for those big groups or events
The Kamado Joe Jnr
Whether tailgating or cooking out by the lake, the high quality—and surprisingly portable— Kamado Joe - Joe Jr makes premium grilling possible just about anywhere.
The Kamado Joe Kettle Joe
This is Kamado Joe's newest, hottest and most exciting product yet! The Kamado Joe Kettle Joe is kettle grill but with all the benefits of a Kamado, improved heat retention, fuel efficiency and awesome smoking ability. Take a look.
Quality
Crafted to perform better and last longer. That's the simple, uncompromising quality standard that drives Kamado Joe - from design to production. Their goal is simple: that each product bearing their name becomes a trusted part of exceptional grilling experiences.
Innovation
From our earliest days, our focus was on solving problems others hadn't or couldn't so that people could get more out of grilling. We don't settle. It's a commitment that's clear in everything from the features of our flagship grills to the size of our massive lump charcoal. Kamado Joe Black Friday deals here.
KamadoSpace Tables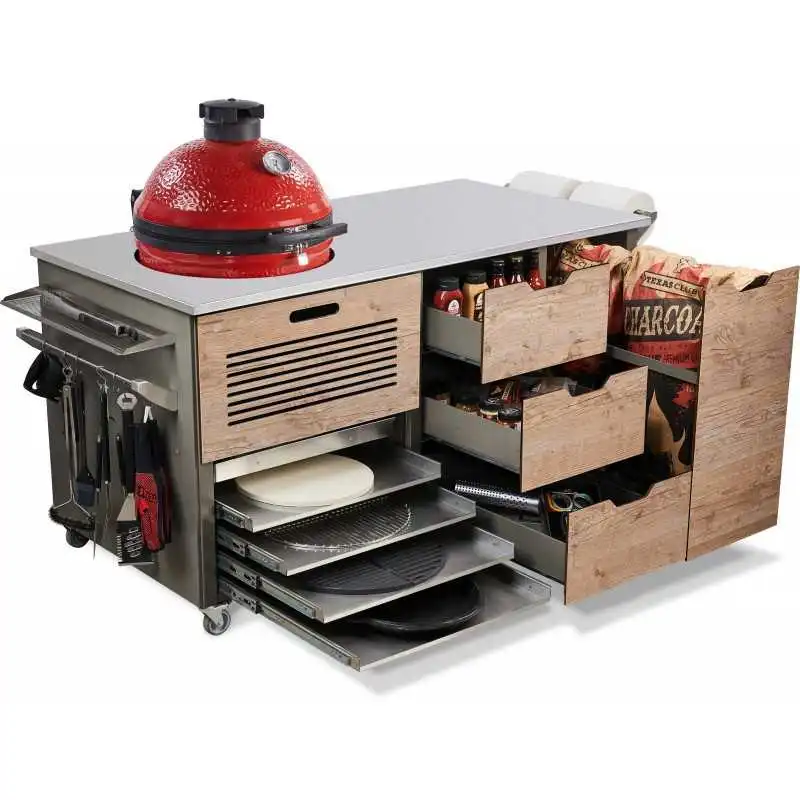 Do you need somewhere to store all your Kamado Joe accessories and keep within easy reach, somewhere to prep your food without getting the kitchen messy or just want to make your outdoor living space awesome? Then take a look at the KamadoSpace tables, every model of Kamado Joe will fit.
KamadoSpace Infinite Island outdoor cooking islands are designed and made in Europe, comes as a flatpack and can take all the most popular kamado grills. Not only gorgeous and with every little detail thought about, but also sturdy and durable, this table is designed to provide you with absolute satisfaction while grilling food outside.