Kamado Joe - Classic III - Elements Pack
The Kamado Joe Classic 3 with Elements Pack is Kamado Joe's newest, hottest and most advanced Kamado Joe grill, it includes a premium cart and improved side shelves along with the newest awesome innovation to hit the Kamado world, the revolutionary SloRoller Hyperbolic Smoke Chamber insert. Which will transform the flavour of your food.
Kamado Joe - Classic 3 - Elements Pack
The Kamado Joe Classic 3 with Elements Pack is the new Classic bbq from Kamado Joe. It includes a premium cart and improved side tables along with the newest innovations such as the the fantastic revolutionary SloRoller Hyperbolic Smoke Chamber insert, which will transform the taste of your grilled food. Those low 'n' slow cooks are going to be just delicious.
The SloRoller is developed by Havard university it harnesses the power of cyclonic airflow technology to control heat and smoke. The SloRoller insert is designed to perfect the taste and texture of food on low-and-slow cooks up to 500°F, and is easily swapped out for heat deflector plates when searing or grilling at higher temperatures.
As with its predecessor, the Kamado Joe Classic 2, it also features a thick-walled, heat-resistant shell that locks in smoke and moisture at any temperature. This lets you do successful cooks even if its windy, cold or wet outside. This will truly let you bbq 365 days a year!
Attention: Some other websites offer a "Free Accessory Package" containing heat deflector, Divide & Conquer cooking rack, grill gripper & ash tool as an enticement to purchase. Just to let you know, these items come standard with the Kamado Joe Classic 3 grills. You get them automatically with the grill. We mention this because several customers have asked us about it.
Kamado Joe Elite Authorised Dealer: BBQs 2u is not just an authorised Kamado Joe dealer... we're a Kamado Joe ELITE Dealer! Put simply this means we've been recognised as an awesome KJ dealership for both; online and in-store sales at the best prices with the fantastic customer service. Plus being an Elite dealer we get all the LATEST KJ products FIRST! Buying from an authorised dealer like us ensures a valid warranty on your new Kamado Joe, we're with you all the way... not just on the purchase, we want to be part of your bbq adventures. Buy from BBQs 2u, the family business that cares.
Classic 3 includes as standard:-
Heavy-Duty Galvanised Steel Rolling Cart & Locking Wheels
Finished Folding Cast Aluminium Side Shelves/Handle
Patented SloRoller Hyperbolic Smoke Chamber
3 Tier Divide & Conquer Flexible Cooking System
Half Moon Heat Deflectors x 2
304 Stainless Steel Charcoal Basket
Kontrol Tower Top Vent
Air Lift Hinge
AMP Firebox
Accessory Rack
Wire Mesh Fibreglass Gasket
Patented Slide-Out Ash Drawer
Built-in Thermometer

Grill Gripper

Ash Tool
LEVEL UP - CHOOSE YOUR EXPERIENCE PACK FOR THE BEST DEAL
PACK NAME
WHAT'S INCLUDED

ELEMENTS

PACK
Kamado Joe Big Block Charcoal, Kamado Joe Cover, Kamado Joe Fire Starters.

DISCOVERY

PACK
ELEMENTS + Kamado Joe Cast Iron Griddle, Kamado Joe Grate, Kamado Joe Pizza Stone.

EXPLORER

PACK
DISCOVERY + Kamado Joe Soapstone, Kamado Joe Laser Cut Stainless Steel Fish & Veg Grate.

ADVENTURER

PACK
Kamado Joe JoeTisserie, Kamado Joe Basket Set, Kamado Joe Cast Iron Griddle, Kamado Joe Grate.

QUEST

PACK
ELEMENTS + Kamado Joe DoJoe, Kamado Joe Pizza Peel.

VOYAGER

PACK
EXPLORER + ADVENTURER + QUEST (-DUPLICATES)
Features
3 TIER DIVIDE & CONQUER® FLEXIBLE COOKING SYSTEM

Exclusive multilevel, half-rack design doubles cooking space and frees you to cook different foods on different levels and on different cooking surfaces. Learn more about the Kamado Joe Divide & Conquer Cooking System.

PATENTED SLoROLLER HYPERBOLIC SMOKE CHAMBER

The first of its kind, the revolutionary SloRoller leverages patented, Harvard science that transforms a Kamado Joe® into one of the world's most optimal smokers. By distributing smoke and heat in rolling, recirculating waves, the Sl?Roller surrounds food in clouds of delicious smoke while evenly distributing heat—resulting in enhanced flavour and significantly reduced hot spots.

PREMIUM CART

Heavy-Duty Galvanised Steel Rolling Cart.

ALUMINIUM SIDE SHELVES

Finished Folding Aluminium Side Shelves/handle.

CHARCOAL BASKET

The Kamado Joe® Charcoal Basket makes it even easier to clean your firebox after a cook. The Charcoal Basket allows you to quickly separate leftover charcoal from your ashes and be ready for your next cook in seconds.

KONTROL TOWER TOP VENT

Patented, all-aluminum, no-rust, rain-proof top vent maintains consistent air setting for precise airflow management.

AIR LIFT HINGE

Breakthrough hinge reduces dome weight by 96%. Developed in conjunction with Weber Knapp in upstate New York, the world's leading premium hinge maker.

STAINLESS STEEL LATCH

Self-activating latch for a category-leading, ultra air-tight seal.

AMP FIREBOX

The new Advanced Multi-Panel FireBox eliminates breakage. This patent pending six-piece design defies physics and solves a major consumer pain point.

PATENTED SLIDE-OUT ASH DRAWER

While other kamado grills expect you to awkwardly sweep out ash that collects beneath the fire box, our Classic, Big Joe and Stand-Alone models integrate a first-of-its-kind drawer that takes the hassles and mess out of emptying your ash.

WIRE MESH FIBERGLASS GASKET

All-new, double-thick gasket offers superior air-tight seal and 10x the life of normal industry gaskets. Developed in conjunction with Davlyn Manufacturing in Pennsylvania, the most renowned high temperature gasket manufacturer in the world.
Features & Components of the Kamado Joe Classic 3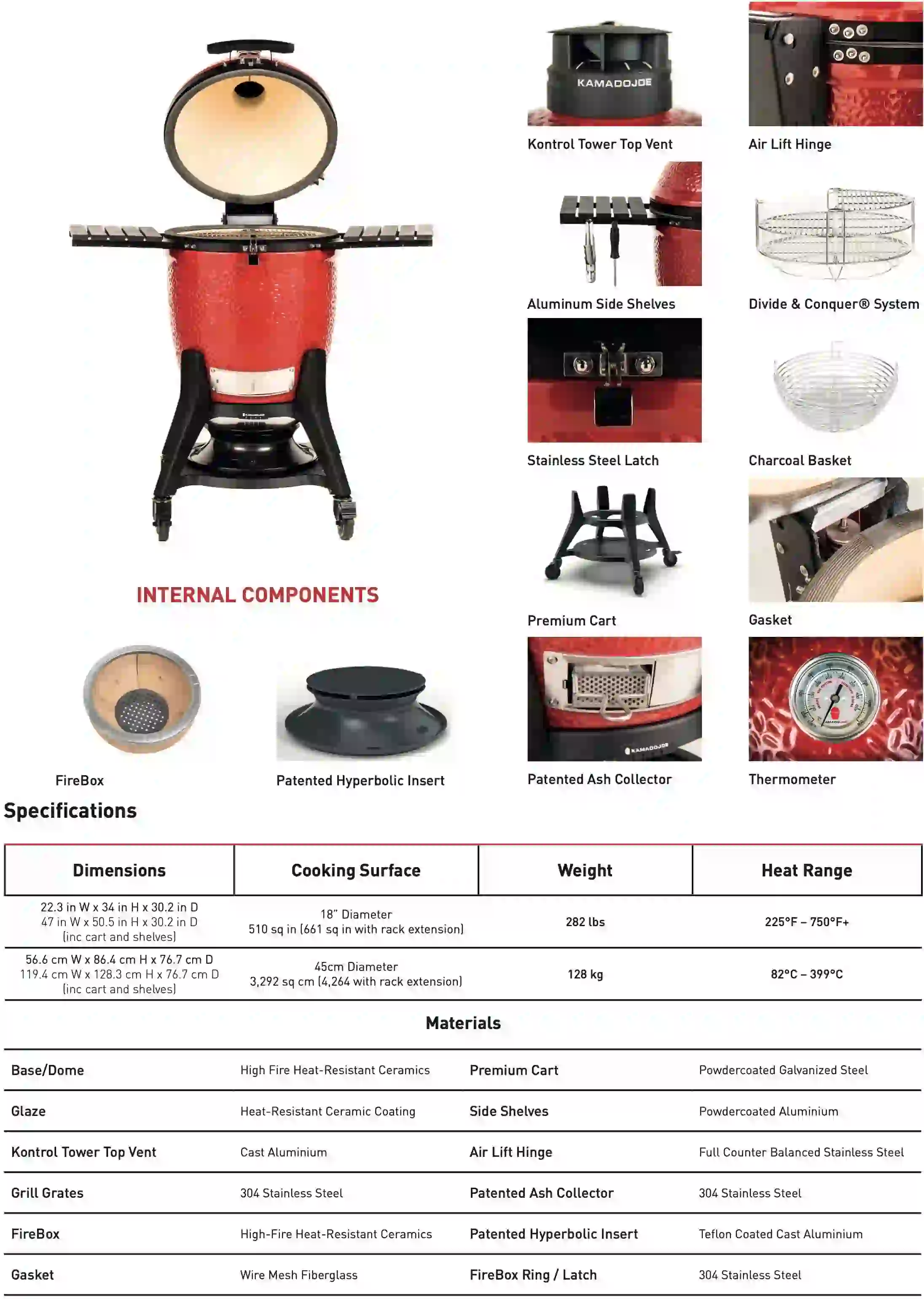 Kamado Joe Classic 3 Dimensions & Installation Guide
IMPORTANT DIMENSION NOTES. Please use this as a general guide for installing a Classic III ceramic grill in a built-in outdoor kitchen or grill table. Drawing is not to scale.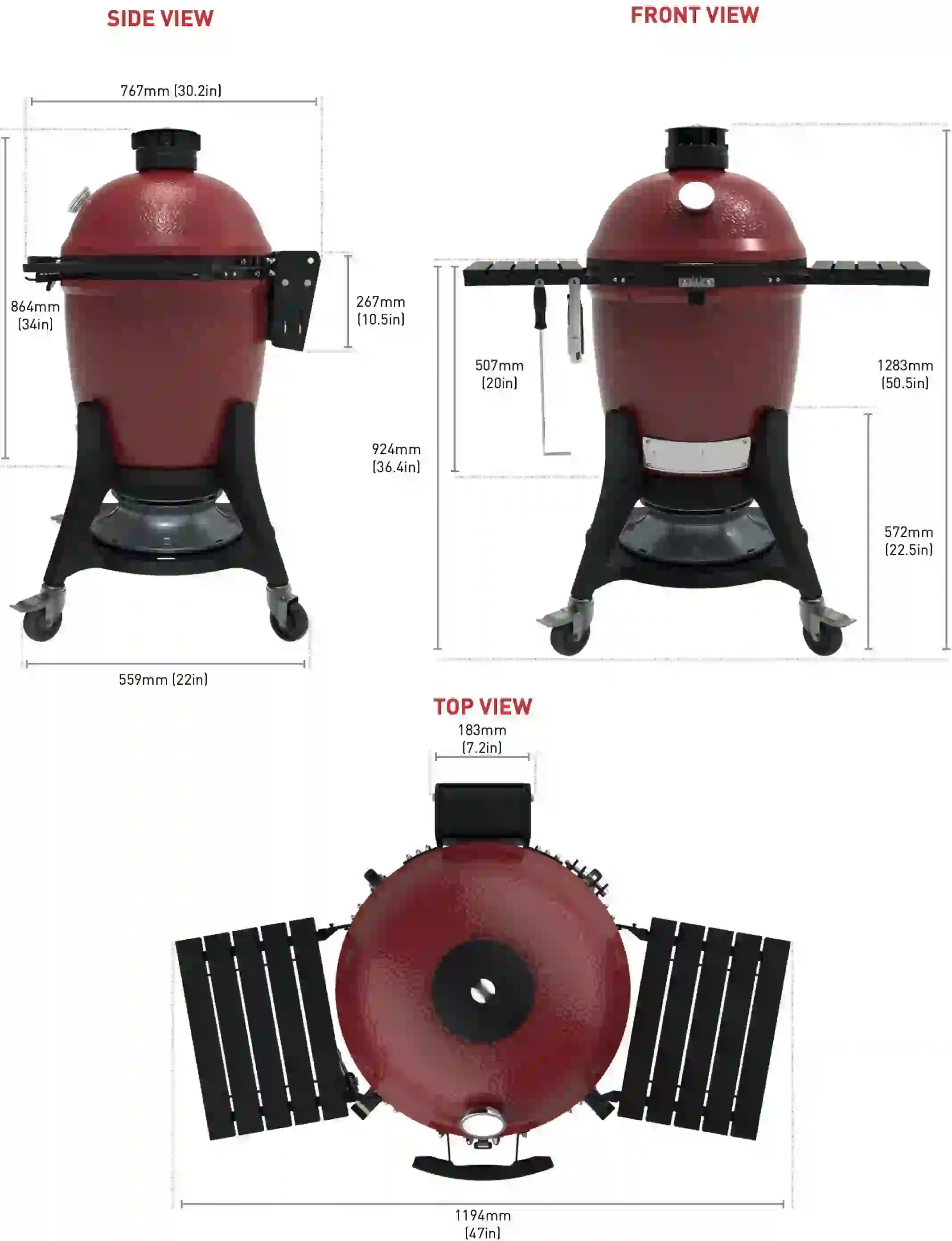 Technical Specs
Dimensions: 118.11cm W x 121.92cm H x 71.12cm D
Cooking Surface: 45cm diameter / 3292 sq. cm.
With Grill Expander: 1031.24 sq. cm.
With Two Sets of Grates: 1290.32 sq. cm.
With Both Grates & Grills Expander: 4264 sq. cm.
Weight: 128 Kg.
Heat Range: 82°C – 399°C
Customers who bought this product also bought: