Kamado Joe - Konnected Joe - Voyager Pack
Voyager Pack - Experience a new era of ceramic grilling here in the UK with the Kamado Joe Konnected Joe Digital Charcoal Grill and Smoker. The Konnected Joe makes lighting a fire easy...
Kamado Joe - Konnected Joe - Voyager Pack
WELCOME TO THE FUTURE OF OUTDOOR GRILLING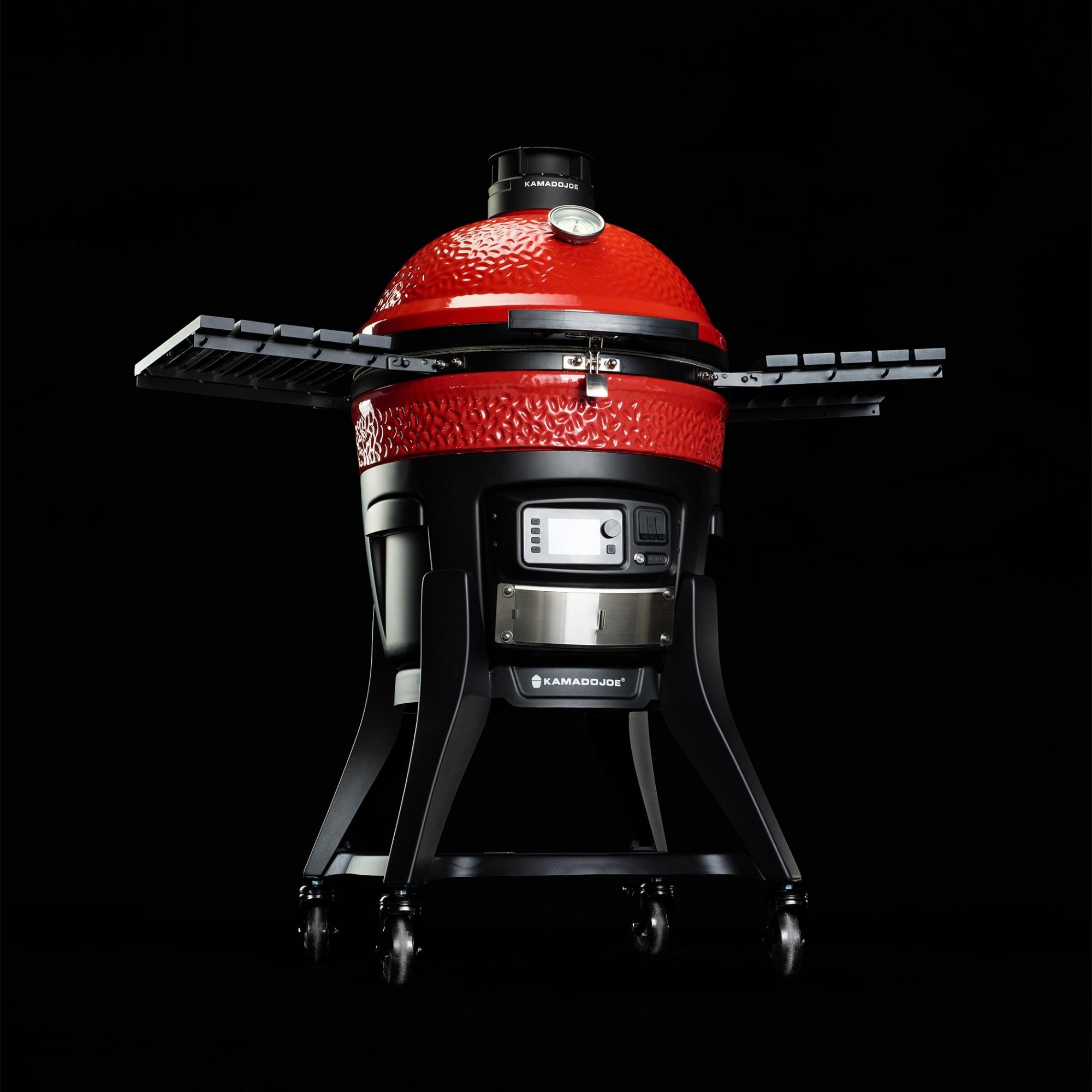 Experience a new era of ceramic grilling with the Kamado Joe Konnected Joe - Voyager Pack Digital Charcoal Grill and Smoker.
The Konnected Joe makes lighting a fire easy. Simply press the Automatic Firestarter (AFS™) button to ignite your charcoal, set your desired cooking temperature with the digital Kontrol Board™ or the Kamado Joe App and let the Kontrol Fan™ do the rest.
With multiple cooking functions the Konnected Joe allows you to enjoy Kamado grilling and smoking your way. Automatic cook mode provides full digital control, or try Classic mode, for the traditional Kamado experience.
KONNECTED JOE IS FULL OF FEATURES
18-inch WiFi ceramic grill with 250 sq. in. of cooking space
AFS (Automatic Fire Starter) button to instantly light your charcoal
Digital Kontrol Board for temperature graphing, alerts, and multiple cook modes
Use the Kamado Joe App to set temperature and time, monitor meat probes and discover new recipes
Kontrol Fan automatically maintains your desired temperature from 225°F to 700°F
Automatic Cook Mode for digitally connected cooking or Manual Cook Mode for a traditional kamado grilling experience
Kontrol Tower™ top vent maintains consistent air setting during dome opening and closing
Includes lifting handles for easy and safe loading and unloading of the grill
Air Lift™ Hinge significantly reduces dome weight
2-Tier Divide & Conquer® Cooking System for cooking various foods at different temperatures
Heavy duty powder-coated steel grill cart with locking wheels
Other features and accessories included: Stainless steel latch, Advanced Multi-panel (AMP) firebox, Stainless Steel Cooking Grates, Folding Aluminum Side Shelves, Grill Gripper, Ash Tool, Heat Deflectors, Accessory Rack, and 1 Meat Probe.
Compatible with outdoor kitchens. See user manual for more details.
Compatible with the Classic Joe® Cover and accessories (NOT compatible with the Classic Joe Charcoal Basket)
Welcome to the future of grilling with the Kamado Joe Konnected Joe, the revolutionary smart grill that combines cutting-edge technology with the time-tested art of BBQ. Whether you're a seasoned pitmaster or a backyard enthusiast, the Konnected Joe will elevate your grilling experience to new heights. With its smart features, precise temperature control, and unmatched versatility, this is the grill you've been waiting for. Get ready to unlock a world of grilling possibilities!
Smart Connectivity: The Kamado Joe Konnected Joe is IoT-enabled, allowing you to control and monitor your grill remotely through a user-friendly smartphone app. Stay connected to your grill wherever you are, and receive real-time updates on temperature, cook progress, and more.
Precision Temperature Control: Achieve grill mastery with the Konnected Joe's precise temperature control system. Whether you're searing a steak at high heat or slow-smoking a tender rack of ribs, this grill maintains the perfect temperature for consistently delicious results.
Versatile Cooking Options: From low-and-slow smoking to high-temperature searing, the Kamado Joe Konnected Joe can do it all. It's the perfect grill for various cooking techniques, including grilling, roasting, baking, and smoking.
Large Cooking Area: The spacious cooking area provides ample room to grill for a small family dinner or a backyard barbecue party. Whether you're cooking for two or a crowd, the Konnected Joe has you covered.
Durable Construction: Built with high-quality materials, the Kamado Joe Konnected Joe is designed to withstand the elements and ensure years of reliable performance. Its ceramic shell retains heat efficiently, while the sturdy cart and stainless-steel components add durability.
Easy-to-Clean Ash System: Cleaning up after a grill session is a breeze with the Konnected Joe's ash removal system. Simply empty the ash drawer, and you're ready for the next culinary adventure.
Features
AFS BUTTON - AUTOMATIC FIRE STARTER

AFS (Automatic Fire Starter) button eliminates the need to manually light your charcoal with a built-in element to quickly ignite a flame

DIGITAL KONTROL BOARD

The Kontrol Board premium digital control panel features 24-hour temperature graphing, notification alerts, and automatic temperature control for precision cooking

APP CONNECTIVITY

Set and adjust your temperature and time, monitor your meat probes, look up recipes, and continuously elevate your craft with the compatible Kamado Joe App

TEMPERATURE GRAPHING

Monitor your temperature over time with the state-of-the-art temperature graph to become a master of your cooking craft

KONTROL TOWER TOP VENT

Patented, all-aluminum, no-rust, rain-proof top vent maintains consistent air setting for precise airflow management.

AIR LIFT HINGE

Breakthrough hinge reduces dome weight by 96%. Developed in conjunction with Weber Knapp in upstate New York, the world's leading premium hinge maker.

STAINLESS STEEL LATCH

Self-activating latch for a category-leading, ultra air-tight seal.

AMP FIREBOX

The new Advanced Multi-Panel FireBox eliminates breakage. This patent pending six-piece design defies physics and solves a major consumer pain point.

PATENTED SLIDE-OUT ASH DRAWER

While other kamado grills expect you to awkwardly sweep out ash that collects beneath the fire box, our Classic, Big Joe and Stand-Alone models integrate a first-of-its-kind drawer that takes the hassles and mess out of emptying your ash.

WIRE MESH FIBERGLASS GASKET

All-new, double-thick gasket offers superior air-tight seal and 10x the life of normal industry gaskets. Developed in conjunction with Davlyn Manufacturing in Pennsylvania, the most renowned high temperature gasket manufacturer in the world.
The Kamado Joe Konnected Joe is not just a grill; it's a culinary companion that will transform the way you grill and entertain. With its innovative features, smart technology, and user-friendly app, grilling has never been more enjoyable and stress-free. Elevate your outdoor cooking experience with the Kamado Joe Konnected Joe and become the master of your grill.
Why Choose Kamado Joe Konnected Joe
Experience the future of grilling with the Kamado Joe Konnected Joe. Here's why it stands out from the competition:
State-of-the-Art Technology: With its smart connectivity, the Konnected Joe brings grilling into the digital age, making it convenient and hassle-free.
Consistent and Delicious Results: The precision temperature control system ensures that your food is cooked to perfection every time, making you the envy of all your friends and family.
Unmatched Versatility: Whether you're a beginner or a seasoned pro, the Konnected Joe caters to all your culinary needs, allowing you to experiment with various cooking techniques.
Peace of Mind: No more constantly checking the grill; the smartphone app keeps you updated on the cooking progress, allowing you to enjoy your company while still being in control.
Durability and Quality: The Kamado Joe brand is renowned for its top-notch construction and materials, ensuring that your grill investment is built to last.
Buy Kamado Joe Konnected Joe:
Order your Kamado Joe Konnected Joe today and take your grilling game to the next level. Don't miss out on this innovative and game-changing smart grill.
Unlock the full potential of your grilling passion with the Kamado Joe Konnected Joe. This smart grill empowers you to become the ultimate grill master, offering precise control, smart connectivity, and the versatility to cook like a pro. Elevate your BBQ experience and make every cookout a memorable one with the Kamado Joe Konnected Joe. Embrace the future of grilling today!
Order yours today and step into the future of grilling!
Kamado Joe Konnected Joe - Frequently Asked Questions (FAQ)
How does it fit within the Kamado Joe Classic range?
The Kamado Joe Konnected Joe is priced between the Classic 2 and the Classic 3. The Konnected Joe is based on a classic 2 body but with the Kontrol Unit and a Classic 3 stand. Take a look at the Kamado Joe Classic Range.
Does it make smoking easier, is the setting of the temperature ongoing or is it just for the initial lighting of the fire?
You can adjust the temperature from the controller or via an App on your phone. Its is great for keeping those temps consistant and for monitoring your cooks. It even shows you graphs of your cook!
Do you have to plug it in?
If you want to use the controller, yes. But if you want to use it without, you can just use it like you would a normal Kamado Joe with no need for electric
Do you think it takes the skill, enjoyment and the bbq experience away?
We've not used it yet so can't really comment. We can definitely see the convenience factor. Load it up in the morning. Switch it on as soon as you finish work while you prep dinner. But, and this is a big one for us... you can still use it without electric and without the controller. Which means you can play at the weekend and have the convenience during the week! Win Win!
Are there any accessories that fit it?
Yes all of the Kamado Joe Classic accessory range fit the Konnected Joe (except for the charcoal basket).
Can it be turned on remotely on your phone if loaded with charcoal?
No thats not possible for safety reasons... Lighting a BBQ when you aren't there probably isn't the safest thing to do!
Can it be used without the stand, like the stand-alone model in an outdoor kitchen?
Yes the Konnected Joe can be placed on a countertop as part of an outdoor kitchen. Simply remove the screws from the cart and use your product as a standalone grill.
How does the Konnected Joe work?
The Automatic Fire Starter (AFS) ignites charcoal quickly with the push of a button via heating element inside the grill.
Kontrol Board™ allows the user to set and monitor cook modes, grill temperature, meat probes, and session graphing. Connect to the Kamado Joe app via WiFi.
The Digital Fan maintains and regulates temperature consistency throughout the cook by generating airflow through the grill interior. You may also use Classic Cook mode for a traditional Kamado Joe grilling experience.
Can you use the Konnected Joe with a battery instead of plugging it into the mains?
It does come with a UK plug for connecting to the mains, but i'm sure you could probably connect it to a suitable portable power pack.
Does the Slo-Roller fit the Konnected Joe?
Yes it does, along with all the other KJ Classic accessories (except for the charcoal basket).
Where can I get more information on the Konnected Joe? Have more questions? See our Extended Konnected Joe FAQ
Technical Specs
Dimensions: 118.11cm W x 121.92cm H x 71.12cm D
Cooking Surface: 45cm diameter / 3292 sq. cm.
With Grill Expander: 1031.24 sq. cm.
With Two Sets of Grates: 1290.32 sq. cm.
With Both Grates & Grills Expander: 4264 sq. cm.
Weight: 128 Kg.
Heat Range: 82°C – 399°C